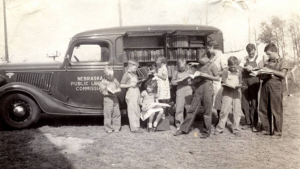 This week we have a 4-1/8″ x 2-1/2″ black and white photograph of the Nebraska Public Library Commission's bookmobile from 1937.
This picture is provided and owned by the Nebraska Library Commission. The collection includes materials on the history of libraries in the state of Nebraska, mainly libraries built with Carnegie grants. This collection  also includes items showcasing the history of Nebraska's state institutions.
Interested in Nebraska history? Find out more about this photo in the Nebraska Memories archive!
Nebraska Memories is a cooperative project to digitize Nebraska-related historical and cultural heritage materials and make them available to researchers of all ages via the Internet. The Nebraska Memories archive is brought to you by the Nebraska Library Commission. If your institution is interested in participating in Nebraska Memories, see http://nlc.nebraska.gov/nebraskamemories/participation.aspx for more information.