The
Nebraska Publications Clearinghouse
receives documents every month from all Nebraska state agencies, including the
University of Nebraska Press
(UNP).  Each month we will be showcasing the UNP books that the Clearinghouse receives.                UNP books, as well as all Nebraska state documents, are available for
checkout
by libraries and librarians, for their patrons, in Nebraska. Here are the UNP books the Clearinghouse received in May: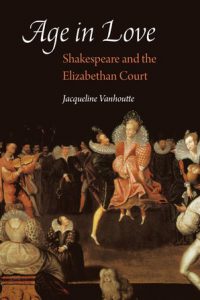 Age in Love : Shakespeare and the Elizabethan Court             
Jacqueline Vanhoutte (Series: Early Modern Cultural Studies) The title 
Age in Love
 is taken from Shakespeare's sonnet 138, a poem about an aging male speaker who, by virtue of his entanglement with the dark lady, "vainly" performs the role of "some untutor'd youth." Jacqueline Vanhoutte argues that this pattern of "age in love" pervades Shakespeare's mature works, informing his experiments in all the dramatic genres. Bottom, Malvolio, Claudius, Falstaff, and Antony all share with the sonnet speaker a tendency to flout generational decorum by assuming the role of the lover, normally reserved in Renaissance culture for young men. Hybrids and upstarts, cross-dressers and shape-shifters, comic butts and tragic heroes—Shakespeare's old-men-in-love turn in boundary-blurring performances that probe the gendered and generational categories by which early modern subjects conceived of identity. In 
Age in Love
 Vanhoutte shows that questions we have come to regard as quintessentially Shakespearean—about the limits of social mobility, the nature of political authority, the transformative powers of the theater, the vagaries of human memory, or the possibility of secular immortality—come to indelible expression through Shakespeare's artful deployment of the "age in love" trope. 
Age in Love 
contributes to the ongoing debate about the emergence of a Tudor public sphere, building on the current interest in premodern constructions of aging and ultimately demonstrating that the Elizabethan court shaped Shakespeare's plays in unexpected and previously undocumented ways.
Great Plains Weather 
                                                                                                                                                Kenneth F. Dewey (Series: Discover the Great Plains)
The weather of the Great Plains is extreme and highly variable, from floods to droughts, blizzards to tornadoes. In 
Great Plains Weather
Kenneth F. Dewey explains what makes this region's climate unique by presenting a historical climatology of extreme weather events. Beginning with tornadoes—perhaps the most formidable plains weather phenomena—he describes the climatology of these storms and discusses memorable tornadoes of the plains. As one of the storm chasers who travels the Great Plains in the spring and summer tracking severe weather, Dewey also shares some of his experiences on the road. Dewey then goes on to discuss famous blizzards, from the "School Children's Storm" of 1888 to more recent storms, along with droughts and floods. Precipitation, or the lack thereof, has long determined human activity in the region; exacerbated by the vagaries of climate change, it continues to have a significant economic and cultural impact on the people of the plains. Dewey's absorbing narrative is complemented by images of tornadoes, snowstorms, and flash floods that he amassed in forty years of climatological research.
Postcolonial Hauntologies : African Women's Discourses of the Female Body                                                                                               
Ayo A. Coly  (Series: Expanding Frontiers–Interdisciplinary Approaches to Studies of Women, Gender, and Sexuality)
Postcolonial Hauntologies
 is an interdisciplinary and comparative analysis of critical, literary, visual, and performance texts by women from different parts of Africa. While contemporary critical thought and feminist theory have largely integrated the sexual female body into their disciplines, colonial representations of African women's sexuality "haunt" contemporary postcolonial African scholarship which—by maintaining a culture of avoidance about women's sexuality—generates a discursive conscription that ultimately holds the female body hostage. Ayo A. Coly employs the concept of "hauntology" and "ghostly matters" to formulate an explicative framework in which to examine postcolonial silences surrounding the African female body as well as a theoretical framework for discerning the elusive and cautious presences of female sexuality in the texts of African women. In illuminating the pervasive silence about the sexual female body in postcolonial African scholarship, 
Postcolonial Hauntologies
challenges hostile responses to critical and artistic voices that suggest the African female body represents sacred ideological-discursive ground on which one treads carefully, if at all. Coly demonstrates how "ghosts" from the colonial past are countered by discursive engagements with explicit representations of women's sexuality and bodies that emphasize African women's power and autonomy.
Songs of Profit, Songs of Loss : Private Equity, Wealth, and Inequality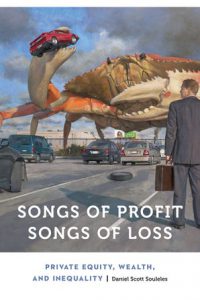 Daniel Scott Souleles (Series: Anthropology of Contemporary North America) Since the early 1980s, private equity investors have heralded and shepherded massive changes in American capitalism. From outsourcing to excessive debt taking, private equity investment helped normalize once-taboo business strategies while growing into an over $3 trillion industry in control of thousands of companies and millions of workers. Daniel Scott Souleles opens a window into the rarefied world of private equity investing through ethnographic fieldwork on private equity financiers. 
Songs of Profit, Songs of Loss
 documents how and why investors buy, manage, and sell the companies that they do; presents the ins and outs of private equity deals, management, and valuation; and explains the historical context that gave rise to private equity and other forms of investor-led capitalism. In addition to providing invaluable ethnographic insight, 
Songs of Profit, Songs of Loss
 is also an anthropological study of inequality as Souleles connects the core components of financial capitalism to economic disparities. Souleles uses local ideas of "value" and "time" to frame the ways private equity investors comprehend their work and to show how they justify the prosperity and poverty they create. Throughout, Souleles argues that understanding private equity investors as contrasted with others in society writ large is essential to fully understanding private equity within the larger context of capitalism in the United States.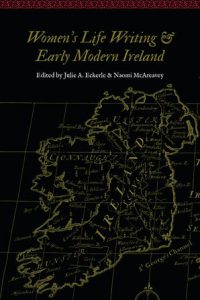 Women's Life Writing & Early Modern Ireland
                                      Edited by Julie A Eckerle & Naomi McAreavey (Series: Women and Gender in the Early Modern World)
Women's Life Writing and Early Modern Ireland
 provides an original perspective on both new and familiar texts in this first critical collection to focus on seventeenth-century women's life writing in a specifically Irish context. By shifting the focus away from England—even though many of these writers would have identified themselves as English—and making Ireland and Irishness the focus of their essays, the contributors resituate women's narratives in a powerful and revealing landscape. This volume addresses a range of genres, from letters to book marginalia, and a number of different women, from now-canonical life writers such as Mary Rich and Ann Fanshawe to far less familiar figures such as Eliza Blennerhassett and the correspondents and supplicants of William King, archbishop of Dublin. The writings of the Boyle sisters and the Duchess of Ormonde—women from the two most important families in seventeenth-century Ireland—also receive a thorough analysis. These innovative and nuanced scholarly considerations of the powerful influence of Ireland on these writers' construction of self, provide fresh, illuminating insights into both their writing and their broader cultural context.