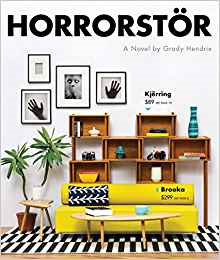 Horrorstor is a fun, quick read, perfect for the holiday shopping season. It's a horror story, set in a big box store, formatted to look like a catalog. Author Grady Hendrix has seen a lot of horror movies, and if you have too, there are references aplenty for you to enjoy. He's also spent a lot of time in Ikea (and does name-check them, as the superstore Orsk is knockoff of the Swedish retail giant) and has a lot of fun with the names of products accordingly. The book has just enough digs about consumer capitalism to make you feel smart, and enough broadly-drawn but relatable characters to make you not dwell on anything too downbeat.
The book would make a good gift, for the reader with a sense of humor on your list. (Or a library book to check out and have in the house, for the family introvert during a holiday gathering.) Are there plot holes? Yes! Is it a masterpiece? No! Is it enjoyable? Definitely. Can you read it surrounded by family being loud, with every TV and speaker in the house on a different channel, while full of sugar? Yes. You'll still be able to follow the story. You'll root for the employee character of your choice to make it through the single overnight shift in the possibly haunted, definitely scary Orsk location in Cuyahoga, Ohio, built on the site of an abandoned experimental prison, the Cuyahoga Panopticon. The narrative design is a lot more straightforward than any big box store design. The author is having a good time, and he wants the reader to have one, too.
Hendrix, Grady. Horrorstör: A Novel. Philadelphia, Pa: Quirk, 2014. Print.