I'm rather late to the world of podcasts, but I've been finding more and more really good ones. Even better, I've been finding related books for when I just want more of the story or just need a break from listening. Here's a list of a few I've recently gathered: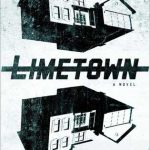 Limetown.
"What happened to the people of Limetown?" Three hundred people living in a small town in Tennessee seemingly disappeared overnight, including Lia Haddock's uncle Emile. Lia, a journalist, investigates the mysterious research facility and the surrounding town looking for answers as to what really happened that night. The book goes back to seventeen-year old Lia's, looking for answers about her family who all refuse to talk about the incident, alternating with Emile's story leading up to the project in Limetown.
Smith, Cote. Limetown: The Prequel to the #1 Podcast. 2018. Print.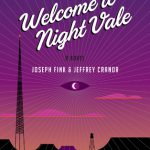 Welcome to Night Vale
. Presented as a community radio show, the podcast follows Cecil as he updates residents of this small desert town of all the everyday sorts of activities and events, including the dog park, the ghosts, angels, government conspiracies, and such. While I'm still making my way through the podcast archives, I'm sure I'm missing some of the references throughout the book, but it's still wonderfully weird. The book follows two residents, Diane with her shape-shifting son, and Jackie who owns the pawn shop, and their search for the meaning of "King City."
Fink, Joseph & Cranor, Jeffrey. Welcome to Night Vale. 2015. Print.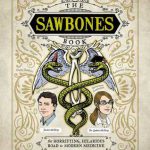 Sawbones
. Dr. Sydnee McElroy and her husband explore how modern medicine has evolved and "all the dumb, bad, gross, weird and wrong ways we've tried to fix people." Think eating powdered mummies, using opium or radium as a cure-all, and drilling holes in your head. Although an entertaining introduction to medical history, the book does seem to have a number of editing issues that can be distracting.
McElroy, Justin & McElroy, Sydnee. The Sawbones Book: The Hilarious, Horrifying Road to Modern Medicine. 2018. Print.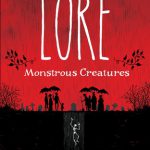 Lore.
Each chapter examines a different "creature" (ghosts, vampires, werewolves, goblins…) and the legends, folklore, or history surrounding them and how they relate to human nature. Great for anyone interested in supernatural/urban legends kinds of things. Though, if you've listened to the podcast, the illustrations may be new to you, but the stories are more transcripts.
Mahnke, Aaron. The World of Lore: Monstrous Creatures. 2017. Print.
The Moth
. True stories told live in front of crowds worldwide, diverse storytellers share their experiences which can be anywhere from dumb things they've done to joyful to heartbreaking. The book contains fifty stories from The Moth's archives. Good if you just want to read some interesting life stories.
Burns, Catherine (editor). The Moth. 2013. Print.