I started r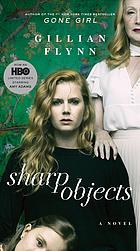 eading Sharp Objects after I started watching the HBO show. Gillian Flynn, the author, helped adapt the book for television, and I find more similarities than differences—though some of my friends who have been longtime fans of the book don't agree with me. I think it's the same story, told in different ways—like having a different relative go through a photo album with you, and hearing different details than you heard last time. This book and show illustrate effectively how there are different ways to tell stories, and some work better on the page, and some work better on the screen.
I could discuss the similarities and differences at length, but to focus on one aspect that won't give too many spoilers—let's talk about the roller skating. There are no roller skates in the book, but there is Camille's first person narration (that, wisely, was not brought over to the show). Camille's first person narration in the book tells us things that the roller skating shows us on the screen. The first episode opens with a flashback of Camille and her first younger sister skating outside of their small Missouri town. We can see Camille's zest for life and freedom, her sister Marian trying to keep up, Camille keeping an eye on her. We see the setting is quiet enough for these girls to explore their environment in this innocent, edge of reckless, way.
By the time we get to the present-day of the story, the roller skates are on Camille's second younger sister, Amma, and her two friends. (Trivia time: the actors playing her friends are sisters in real life, with a background in figure skating.) As viewers, we still align our point of view with Camille, as we do as readers—even though the show adds some scenes that aren't from Camille's point of view, the show is still from her worldview. Now the roller skates, on tween girls that aren't Camille, serve a different purpose: these girls don't stay in place long enough for most people to figure them out. They zip around their little town, risking their life (as the town police officer once points out) in traffic and without helmets, with all the vulnerability and invulnerability of the middle-schooler. From a strictly cinematic point of view, it's uncanny: these characters are moving in a way that is out of pace with the other characters. The sound editing here is fantastic as well. Even if the dialogue was sometimes so quiet that mumbles and drawls had to replayed, the sound of the skates was rhythmic and insistent and yet natural—almost like the bugs would have sounded, in summertime Missouri, if the show had gone for real over surreal.
In later episodes, we see the roller skates one more time on Camille and once on another character—and each time we understand more about the wearer of the skates just because they're wearing them.
We have this title in the Library Commission's book club kits, and I'm surprised it's not checked out right now. (Get on that, readers in Nebraska!) This would be a great book for a book club—lots of unexpected twists and turns, and unexpected and important topics, in a quick read. And your book group could discuss the show as well.
If you're ready for more book vs. movie/television discussion, don't miss our upcoming NCompass Live, Book vs. Movie: The Ultimate Showdown! online Wednesday September 12 at 10AM. (The archived session will be online, if that time doesn't work for you.)
Flynn, Gillian. Sharp Objects: A Novel. , 2006. Print.
Noxon, Marti, creator. Sharp Objects. Crazyrose, Fourth Born, Blumhouse Television, Tiny Pyro, Entertainment One, 2018.
(This show is full of wonderful performances and film-making decisions that didn't fall under the the topic of my blog post–Full cast and crew for Sharp Objects on IMDB)