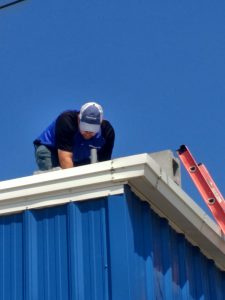 Genoa NE, an IMLS Sparks Grant community, completed installation of the Homework Hotspot at the Genoa Public Library on Wednesday, August 8, 2018. The IMLS Sparks Grant, Nebraska Schools and Libraries – Breaking the Ice and Igniting Internet Relationships, is designed to kindle partnerships between schools and libraries and to help narrow the Homework Gap for public K-12 students through Internet bandwidth sharing. Hamilton Information Technology of Aurora, NE installed antennas on the Genoa Public Library and Genoa's Twin River Fitness Center to add a network connection between the library and the Twin River School District. This new library Homework Hotspot is available for Twin River School District students and staff to use outside of school district buildings. (Hamilton Information Technology Wireless Coordinator Aaron McKillip completes installation on roof in photo above).
The library offers a location for school district students to access the school district network to complete homework assignments or work on school projects. Two desktop computers connected to the school network are also available for use at the library's Homework Hotspot. The school network's Internet speed averages 70 Mbps at the library. For students that do not have Internet at home or have a slower Internet speed at home, the Homework Hotspot offers an alternate location for completing homework assignments. Genoa Public Library Director Tammi Thiem commented, "The digital divide is a real problem for rural communities. The IMLS Sparks grant provides Twin River students and staff with high-speed Internet at the library to help bridge that gap."
The Nebraska Library Commission, in partnership with the Nebraska Office of the Chief Information Officer, was awarded a $25,000 Sparks National Leadership Grant from the Institute of Museum and Library Services. Six Nebraska communities were selected to participate in the grant project: Bancroft, Bayard, Genoa, Imperial, Verdigre, and Wymore. Using fixed wireless technology, the public libraries will offer the school districts' students and staff the ability to access the school district network within the public library. The project began June 1, 2018 and will conclude on May 31, 2019. For more information contact Holly Woldt, Nebraska Library Commission Library Technology Support Specialist, holly.woldt@nebraska.gov, 402-471-4871, 800-307-2665.
This project was made possible in part by the Institute of Museum and Library Services [IMLS grant: LG-99-18-0018-18]. #IMLSGrant