Fifteen Readers to Each Receive $529 NEST Accounts in Random Drawing
Kearney, Neb. (May 24, 2018) – Summer readers at participating Nebraska libraries will have an opportunity to win a $529 college savings account from the Nebraska Educational Savings Trust (NEST 529) in the Read to Win $529 Drawing, Nebraska State Treasurer Don Stenberg said today.
Stenberg, who is Trustee of NEST, announced the fifth annual Read to Win $529 drawing at a news conference at the Kearney Public Library during the library's summer reading kickoff. With Stenberg to announce the drawing was Sally Snyder, Coordinator of Children and Young Adult Library Services at the Nebraska Library Commission.
Stenberg encouraged all Nebraska libraries to participate. Information is available on the Nebraska Library Commission website at http://nlc.nebraska.gov/youth/summerreading/scholarshipdrawing.aspx.
Matthew Williams, Director of the Kearney library, and Shawntel Daniell, Universal Banker with First National Bank, Main Bank, Kearney, also spoke.
Fifteen summer readers between the ages of 3 and 18 will be selected in a random drawing to win a $529 contribution each to a NEST 529 College Savings account. Five winners will be selected from each of Nebraska's three congressional districts. Children and teens may participate in the Read to Win $529 drawing, provided they have completed their local libraries' requirements for the summer reading program and have registered through their local libraries before August 22.
Winners will be announced in late September and recognized in a ceremony at the Capitol in October. More than 13,000 were entered in last year's drawing. Each winner's library branch will receive $250 from NEST.
"We are happy to announce the fifth annual NEST Read to Win $529 drawing, and we want to encourage children and teens to participate. It's easy to sign up, and you might just be one of the lucky winners," Stenberg said.
"We know children and teens have enjoyed summer reading programs at their local libraries for years without monetary incentives. The NEST 529 Read to Win drawing is an ideal opportunity to emphasize the connection between reading and learning and to help young readers plan for higher education. Maybe we will plant a seed for their future educational endeavors and a greater awareness of the benefits of saving through our Nebraska Educational Savings Trust," Stenberg said.
"Reading is a passion of mine; every chance I get, I am reading a book," said Shawntel Daniell from First National. "The ability to help students and their families save for their educational futures with opportunities such as the NEST Read to Win scholarship is something all of us at First National Bank are passionate about."
Nebraska Library Commission Director Rod Wagner, who could not attend the news conference, issued the following statement: "NEST Read to Win $529 is an excellent incentive for Nebraska Summer Reading Program participants and a great way to bring awareness to Nebraska's 529 College Savings Plans. Young readers become lifelong learners and will benefit from college savings plans when they advance to higher education.
"Nebraska public libraries' summer reading programs are great opportunities for children and teens to take time to enjoy reading while maintaining and improving reading skills. They can also enjoy the activities that are part of this summer's Libraries Rock program. We thank State Treasurer Stenberg and First National Bank for the college savings drawing for Nebraska Summer Reading Program participants."
For scholarship contest rules, visit www.NEST529.com and click on Grow. Select Scholarships & Rewards. Contest rules also are available at https://treasurer.nebraska.gov/csp/scholarships.
For more information on the Nebraska Summer Reading Program visit the Nebraska Library Commission's website at http://nlc.nebraska.gov/youth/summerreading/ or contact a local library.
To find out more about NEST College Savings Plans, visit www.NEST529.com or treasurer.nebraska.gov.
About Nebraska Library Commission
 As Nebraska's state library agency, the Nebraska Library Commission is an advocate for the library and information needs of all Nebraskans. The mission of the Library Commission is statewide promotion, development, and coordination of library and information services—bringing together people and information.
About NEST
NEST is a tax-advantaged 529 college savings plan and provides four plans to help make saving for college simple and affordable: NEST Direct College Savings Plan, the NEST Advisor College Savings Plan, the TD Ameritrade 529 College Savings Plan, and the State Farm College Savings Plan. The Nebraska State Treasurer serves as Program Trustee. First National Bank of Omaha serves as Program Manager, and all investments are approved by the Nebraska Investment Council. Families nationwide are saving for college using Nebraska's 529 College Savings Plans, which have more than 254,000 accounts, including 80,000 in Nebraska. Visit NEST529.com and treasurer.nebraska.gov for more information.
About First National Bank of Omaha
First National Bank of Omaha is a subsidiary of First National of Nebraska. First National of Nebraska and its affiliates have more than $21 billion in assets and 5,000 employee associates. Primary banking offices are located in Nebraska, Colorado, Illinois, Iowa, Kansas, South Dakota and Texas.
Investments Are Not FDIC Insured* · No Bank, State or Federal Guarantee · May Lose Value
*Except the Bank Savings Individual Investment Option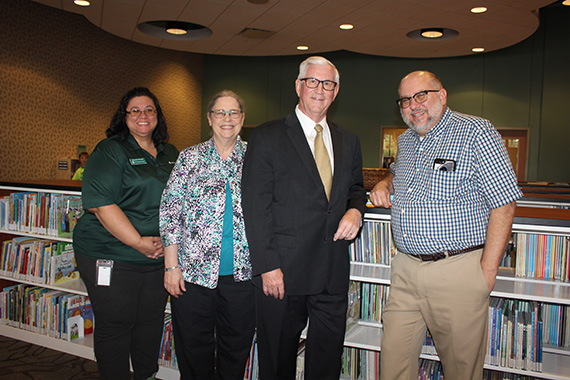 Speakers at the news conference gather after the event. From left, Shawntel Daniell, First National Bank; Sally Snyder, Nebraska Library Commission; Treasurer Stenberg; and Matthew Williams, Kearney Public Library Director.