Join us for the next NCompass Live, 'Library Innovation Studios – A Project Update and Review of the Application Process', on Wednesday, May 30, 10:00am – 11:00am CT.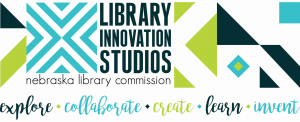 Project staff and partners for the Library Innovation Studios: Transforming Rural Communities project will provide an update to the project, a review of the benefits and commitments involving a makerspace, the need for local partners, and details about the final application/selection process. Eligible Nebraska public libraries are those with a legal service area of less than 25,000 and are accredited. The deadline for the second application cycle – that will identify the final thirteen participating libraries – is scheduled for July 20, 2018.
During the webinar you'll also hear from Heather St. Clair and Audrey Heil (the directors from the Ashland and Loup City public libraries) who will discuss their experiences preparing for and hosting a Library Innovation Studio for up 20 weeks.
The Nebraska Library Commission (NLC) along with partners University of Nebraska – Lincoln, Nebraska Innovation Studio, Nebraska Extension, and Regional Library Systems, are excited about the project, which was awarded a National Leadership Grant of $530,732 by the Institute of Museum and Library Services (IMLS). The project began July 1, 2017 and will conclude the summer of 2020.
The project uses Library Innovation Studios (makerspaces) hosted by libraries to support community engagement and participatory learning experiences by providing access to technological and innovative learning tools not readily accessible locally. This strengthening of the maker culture is expected to stimulate creativity, innovation and the exchange of ideas to facilitate entrepreneurship, skills development, and local economic development.
Project and application details can be found at: http://nlc.nebraska.gov/grants/InnovationStudios/
Presenters: JoAnn McManus, Library Innovation Studios Project Manager; Mary Jo Ryan, NLC Communications Coordinator; Max Wheeler, Instructional Designer for Library Innovation Studios; Connie Hancock, Community Vitality Extension Educator, UNL; Heather St.Clair, Library Director, Ashland Public Library; and Audrey Heil, Director, Loup City Public Library.
Upcoming NCompass Live events:
June 20 – Rising to the Challenge: Using the Aspen Institute Report and Action Guide for Strategic Planning
June 27 – The 2018 Public Library Accreditation Process
July 18 – Many Languages, Many Cultures: Responding to Diverse Health Information Needs
August 1 – Engaging Your Community
Aug. 15 – Some of Our Favorites: The System Directors Talk Books
For more information, to register for NCompass Live, or to listen to recordings of past events, go to the NCompass Live webpage.

NCompass Live is broadcast live every Wednesday from 10am – 11am Central Time. Convert to your time zone on the Official U.S. Time website. The show is presented online using the GoToWebinar online meeting service. Before you attend a session, please see the NLC Online Sessions webpage for detailed information about GoToWebinar, including system requirements, firewall permissions, and equipment requirements for computer speakers and microphones.