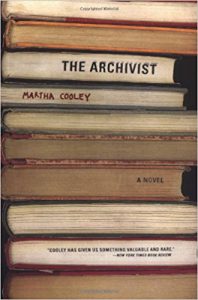 Matthias Lane is a library archivist, a widower nearing retirement at an American university, who guards the rules of the library's archives religiously.  Case in point—the archives has among its' collections the letters written by T.S. Eliot to Emily Hale, a close personal friend. Graduate student Roberta Spire wants access to those letters, but the instructions left when the letters were donated do not allow public viewing until the year 2020. Roberta believes that the letters will give insight into why Eliot enjoyed female companionship, but was so emotionally detached from his wife, as well as to why Eliot became religious. At first, Matthias sees Roberta as only another grad student doing research. But as Roberta persists in wanting to read Eliot's letters, Matthias is intrigued by her persistence, and by her knowledge of Eliot's life and poetry that matches his own. As Matthias gets better acquainted with Roberta, he begins to realize that his own life and marriage are similar to Eliot's, which Matthias has not previously examined in depth. As a result, his dilemma over Eliot's letters ends in a completely unexpected solution.
This book appealed to me on two levels: it was a story involving a library archives, and a story based in historical fact. The letters of T.S. Eliot to Emily Hale are real, and are kept in the Firestone Library, at Princeton University.  The letters are not to be shown to the public until January 1, 2020.
The Archivist, by Martha Cooley, was written 20 years ago, it was is still a great read, and I highly recommend it.