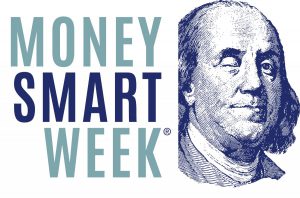 Libraries across the country will offer a wealth of personal finance programs during Money Smart Week® and Nebraska libraries will join them in sponsoring educational and entertaining programs. From April 21-28, 2018, more than 1,000 of our nation's libraries will be participating in Money Smart Week®. Library events will focus on such diverse financial issues as first-time home buying, obtaining renovation loans, preparing a personal spending plan, the property tax appeal process, evaluating financial aid packages, choosing the proper Medicare plan, and the basics of wills and trusts. Libraries are also offering programs that week on options for tax-free savings and charitable tax strategies.
Please comment below about how your Nebraska library will provide programs and resources to celebrate Money Smart Week® April 21-28, 2018. Created by the Federal Reserve Bank of Chicago in 2002, Money Smart Week® is a public awareness campaign designed to help consumers better manage their personal finances. This is achieved through the collaboration and coordinated effort of hundreds of organizations across the country. Classes, activities, events, and programming will be offered to all demographics and income levels and will cover all facets of personal finance. Resources for local events are available at http://www.moneysmartweek.org.
For more information, see http://www.ala.org/news/press-releases/2018/03/libraries-offer-wealth-personal-finance-programs-during-money-smart-week.