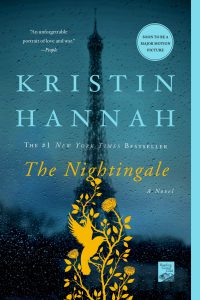 This is a story of two sisters at the beginning of World War II, who each try to find their own way of responding to the horror that is war lived up close and personal on your own turf. The question is posed: "Oh, for heaven's sake, Isabelle. Paris is overrun. The Nazis control the city. What is an eighteen-year-old girl to do about all of that?" The answer is very different for the two sisters (and for all the characters in the book), but the story that unfolds of their struggle for survival under Nazi rule answers that question with a moving and fascinating tale.
The Amazon.com book blurb begins with: "With courage, grace, and powerful insight, bestselling author Kristin Hannah captures the epic panorama of World War II and illuminates an intimate part of history seldom seen: the women's war." I loved this book, but I'm not sure I agree with the previous statement. It seems to me that the women's war has been featured recently in a number of excellent books, AND I have to say I do appreciate that. So I wondered what this book would bring to the narrative that hasn't already been exposed in one of those books. One thing I discovered is that this book is based on a true story. One of the sisters is based on a real-life war hero of the French Resistance, a French woman who led Allied flyers to safety on foot over the Pyrenees Mountains.
The relationship between the sisters is far from perfect and that tension helps the reader understand that one casualty of war can be the time and space to work things out with the ones we love. The author says, "The characters in The Nightingale are each confronted with incredible, terrifying choices. In love and in war, each character will find out who they really are." A challenge that I experienced in reading this book is that the reader is called to evaluate the results of these choices and to examine choices that we might make under the same circumstances—maybe to find out who we really are.
Read this award-winning book now before it shows up in the movie theatres. The Internet is abuzz with speculation about who will star in the upcoming film. The picture, directed by Michelle MacLaren (Game of Thrones and Breaking Bad), is set for release August 10, 2018. The film adaptation of the novel is written by Ann Peacock (Chronicle of Narnia: The Lion, The Witch And The Wardrobe), with MacLaren and John Sayles on board to polish the draft.
The Nightingale: A Novel by Kristin Hannah (St. Martin's Griffin, 2017)
Review by Mary Jo Ryan
#FridayReads