#ThrowbackThursday takes a look at what's inside the Nebraska State Historical Society collection today.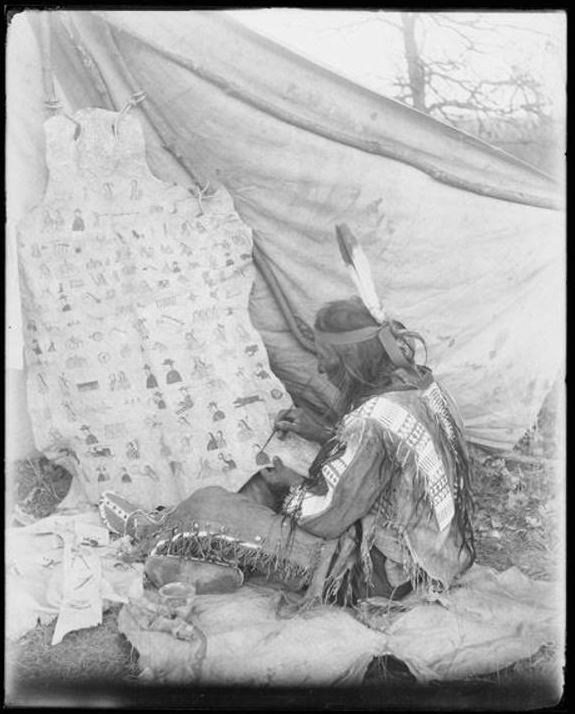 Sam Kills Two, also known as Beads, works on his Winter Count, a historical calendar with painted pictographs on a stretched animal skin outside a tipi. The death of Turning Bear, killed by a passenger train in Valentine, Nebraska, in 1912, is shown in the second row just above Kill Two's left foot by the picture of a locomotive. Kills Two is dressed in native clothing and wears two feathers in his hair. The photograph was taken at the Rosebud Reservation. Kills Two, a Brule Sioux medicine man, provided a written interpretation of the Winter Count which is held by the Sioux Indian Museum in Rapid City, South Dakota. The Rosebud Sioux Indian Reservation is located nine miles north of Valentine, Nebraska, in South Dakota.
This photo is a part of the Nebraska State Historical Society digitized content from the
John Nelson collection
. John Nelson was born in Harestad, Sweden, in 1864. He came to Nebraska with his parents at the age of seventeen. His photographs tell the story of small town life in Nebraska during the first decades of the twentieth century. His subjects included local businesses, community activities, and early automobiles.
Interested in Nebraska history? Find out more about this photo in the
Nebraska Memories
archive! Nebraska Memories is a cooperative project to digitize Nebraska-related historical and cultural heritage materials and make them available to researchers of all ages via the Internet. The Nebraska Memories archive is brought to you by the Nebraska Library Commission. If your institution is interested in participating in Nebraska Memories, see
http://nlc.nebraska.gov/nebraskamemories/participation.aspx
for more information.