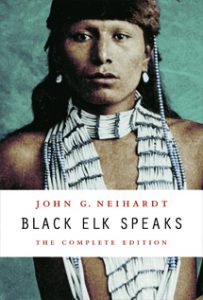 Join us for the next NCompass Live, 'Two Mystics, One Book: Neihardt State Historic Site in 2017', on Wednesday, May 31, 10:00am – 11:00am CT.
From the renaming of Harney Peak to Black Elk Peak to the installation of larger-than-life size sculptures on the grounds of the Neihardt State Historic Site, the celebration of the life and legacy of Nebraska's Poet Laureate in Perpetuity also includes reading the incredible story that became Neihardt's internationally-acclaimed book, Black Elk Speaks as One Book One Nebraska 2017. While partnering with a number of organizations (Nebraska Library Commission, Nebraska Center for the Book, Nebraska State Historical Society, Humanities Nebraska, Nebraska Game and Parks Commission), the Neihardt Foundation and State Historic Site hosts special programs, events, and visitors – including a visit by legendary television personality Dick Cavett – to promote Nebraska's literary heritage during the statehood sesquicentennial year.
Presenter: Amy Kucera, Executive Director, John G. Neihardt State Historic Site, Bancroft, NE

Upcoming NCompass Live events:
June 21 – Feelings are Messy: Building Emotional Intelligence in Libraryland
June 28 – The New NLA Intellectual Freedom Manual Comes to the Rescue
For more information, to register for NCompass Live, or to listen to recordings of past events, go to the NCompass Live webpage.
NCompass Live is broadcast live every Wednesday from 10am – 11am Central Time. Convert to your time zone on the Official U.S. Time website. The show is presented online using the GoToWebinar online meeting service. Before you attend a session, please see the NLC Online Sessions webpage for detailed information about GoToWebinar, including system requirements, firewall permissions, and equipment requirements for computer speakers and microphones.