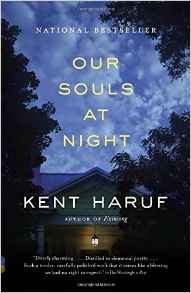 At the 2017 Screen Actors Guild Awards, Viola Davis said the following upon accepting her award for Outstanding Performance by a Female for the movie Fences: "What August (Wilson) did so beautifully is he honored the average man …and sometimes we don't have to shake the world and move the world and create anything that is going to be in the history book. The fact that we breathed and lived a life … means that we have a story and it deserves to be told."  I think writers who choose ordinary subjects can tell amazing stories. I think this is Kent Haruf's talent–to tell everyman's story, the story of those people we all know and recognize, who live next door if not in our own home.
Our Souls at Night was Haruf's last novel before his death in 2014, and it takes place in the fictional town of Holt, Colorado, a small town created for three of his other novels. Addie Moore and Louis Waters have both lost their partners and have lived a long time in Holt knowing of each other rather than being well acquainted. One day, Addie pays a visit to Lois and asks: "I'm wondering if you would consider coming to my house sometimes to sleep with me … I mean we're both alone. We've been by ourselves for too long. For years. I'm lonely. I think you might be too. I wonder if you could sleep in the night with me. And talk … I'm not talking about sex, I'm talking about getting through the night … the nights are the worst don't you think?" And this is where their story begins as this invitation turns into many evening conversations and the revelations of life, regrets, and love lost. It confirms how grief needs to be shared with others especially those for whom the loss is similar. When two people form a bond, onlookers will have opinions and often, not so quietly. I could relate to the gossipy town conversations that made me forever choose to live in a city with a population of at least 100,000 or more.
This is a spare read with uncomplicated and honest characters. There is a cadence to Haruf's books – small town living and the daily minutia that are both familiar and regular. The conversations are ones you've had yourself. Spending time in Holt is downshifting to rural America; slowing down and looking people in the eye when you walk past them on the street.
A movie adapted from this book will be released sometime this year, starring Robert Redford and Jane Fonda, who first appeared together in 1967's Barefoot in the Park. This will be quite a contrast.