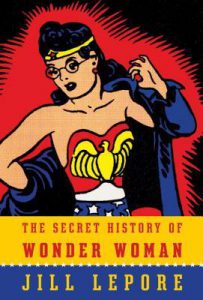 In late October the United Nations celebrated Wonder Woman's 75th birthday by making her an Honorary Ambassador for the Empowerment of Woman and Girls.  You may be wondering how a character, known as much for her "pin-up girl" looks as her crime-fighting skills, achieved such an honor.  According to Jill Lepore, author of The Secret History of Wonder Woman (2015), Wonder Woman stands "at the very center of the histories of science, law, and politics." Lepore argues that the man who conceived of Wonder Woman not only drew from the early-twentieth suffrage and feminist movements, but from his life and "the lives of the women he loved."
Yep, that's right.  Wonder Woman was created by a man.  Not just any man, but William Moulton Marston, the inventor of the lie detector test.  Marston was a man of many abilities. In addition to inventing components of the modern polygraph, he also worked as a lawyer, filmmaker and taught psychology prior to becoming a comic book writer. His experiments with lie detection and psychology, in conjunction with a belief in women's superiority, heavily influenced Wonder Woman's character.  While some of the more suggestive elements later vanished from the strip, Wonder Woman's feminist message persists.
However, Lepore contends there was more to Marston than met the eye.  Unknown except to a few, Marston shared a home with two women: his legal wife and his mistress.  Marston married Elizabeth Holloway in 1916. Like Marston, Holloway also held degrees in psychology and the law.  Holloway gave birth to two of Marston's children and worked as an editor and lecturer at American and New York Universities before becoming the assistant to the chief executive at Metropolitan Life Insurance. In the mid-nineteen twenties, Marston became involved with one of his psychology students, Olive Byrne, who also happened to be Margaret Sanger's niece. Lepore suggests that Holloway allowed Byrne to become Marston's mistress if Byrne raised Holloway and Marston's children; permitting Holloway to continue with her career.  In time, Marston was the father of Byrne's two children.  The entire family shared a home, with each woman fulfilling her designated role in Marston's life.
Jill Lepore deftly weaves women's history through Marston's biography to create a well-rounded biography of Wonder Woman. A close reading of Wonder Woman comic books reveals many of Marston's beliefs regarding free love, his complex family life (Wonder Woman's bracelets are said to honor Byrne who wore a similar pair), patterns of deception and feminist and suffrage themes such as enslavement and bondage.  In fact, Lepore argues that "the philosophy of Margaret Sanger's Woman and the New Race would turn out to be the philosophy of Wonder Woman." Secret History demonstrates that Wonder Woman is more than skimpy attire and stunning looks, but a pillar of strength and equality – a woman worthy of the title Honorary Ambassador for the Empowerment of Woman and Girls.
Lepore, Jill. The Secret History of Wonder Woman. New York:  Vintage Books, 2015.