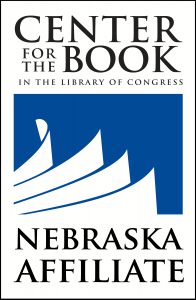 Nebraska's Champions of Literacy and Literature Deserve an Award! The Merriam-Webster online dictionary defines award (n.) as "something (such as a prize) that is given to someone or something for being excellent or for doing something that is admired." Each year the Nebraska Center for the Book honors individuals and organizations that we greatly admire with awards for their "excellent" support of Nebraska reading and writing. Do you know an organization that has demonstrated this by providing "excellent" literacy services? (HINT: It's fine to nominate your own organization.)
The Nebraska Center for the Book is accepting nominations to honor Nebraska's champions of literacy. Awards will be presented at the Celebration of Nebraska Books on October 29 at the Nebraska History Museum in downtown Lincoln. The Jane Geske Award is presented annually to a Nebraska organization for exceptional contribu­tion to literacy, books, reading, libraries, or literature in Nebraska. It commemorates Geske's passion for books, and was established in rec­ognition of her contributions to the well-being of the libraries of Nebraska. Jane Pope Geske was a founding member of the Nebraska Center for the Book, former director of the Nebraska Library Commission, and a long-time leader in Nebraska library and literary activities. The award is sponsored by the Nebraska Center for the Book and Nebraska Library Commission, and is supported by the Center for the Book in the Library of Congress as part of the Library of Congress Literacy Awards Program.
Nominations will be accepted until August 15. For more information see http://centerforthebook.nebraska.gov/awards.html. Nominations forms are available at http://centerforthebook.nebraska.gov/nominationforms.html or contact Rod Wagner, Nebraska Library Commission Director, 402-471-4001, 800-307-2665.