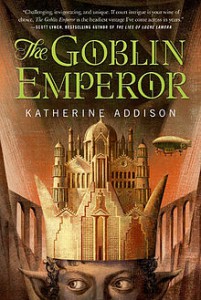 It's the story of the unwanted, unloved fourth, and extra son of an elven Emperor, who unexpectedly, violently, becomes the next emperor. With no training and no one to trust, he's thrust into a fully imagined court and political wrangling of a complex government that he hasn't even been fully educated about. On top of all that, he is half Goblin, a distrusted minority in his country. The unexpected part of the story is that, of course, that living with a greedy, selfish, violent guardian has taught him survival skills that he can use. And he has more than a few. And despite all the difficulties, the story is a hopeful one.
The author has not only packed the story with the edgy subject of race, and all the differences that can mean, but many other lines that she handles well. The accident that ends his father, the emperor's life, and the lives of his three older half brothers, was aboard an airship (dirigible). Two people are set to guard the emperor at all times, one his soul and the other his body. But the one who guards his soul can also cast what we would call spells. New ideas are part of the difficulties the new emperor must deal with, including a new bridge. There is also an ongoing investigation into the deaths of his father and half brothers, which threads through the story, as well as 2 assassination attempts.
The world building is wonderful. One can tell where the origins of many of the foundations come from, but the author handles them in ways that seem fresh. While magic and steam punk flourishes exist, the story, the politics, the struggles, and the people are more interesting. In many ways though, it feels more like a historical story, than a fantasy, despite that fact that the character's ears move to indicate their emotional state, much like a cat's.
Katherine Addison, is actually a pseudonym for Sarah Monette.
The novel has received the Locus Award for Best Fantasy Novel and nominated for the Nebula, Hugo and World Fantasy Awards.
Reviews:
Strange Horizons: The Goblin Emperor by Katherine Addison, reviewed by Foz Meadows
Building Bridges: The Goblin Emperor by Katherine Addison reviewed by Liz Bourke