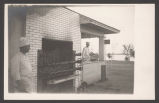 Just like George Gershwin's song for the 1935 opera, Porgy and Bess, it's almost summer time, when thoughts turn to picnics, barbeques, and outdoor fun in general.
Photographs in Nebraska Memories have captured these pursuits over the years.  People barbequing, friends and/or families gathering for picnics, fun playing badminton, baseball or foot racing–these have all been (and continue to be) part of Nebraska's heritage.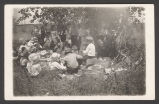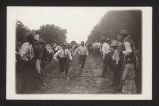 Visit Nebraska Memories to search for or browse through many more historical images like these, digitized from photographs, negatives, postcards, maps, lantern slides, books and other materials.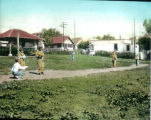 Nebraska Memories is a cooperative project to digitize Nebraska-related historical and cultural heritage materials and make them available to researchers of all ages via the Internet. Nebraska Memories is brought to you by the Nebraska Library Commission. If your institution is interested in participating in Nebraska Memories, see Introduction to Participating in Nebraska Memories for more information, or contact Devra Dragos, Technology & Access Services Director.