Join us for next week's NCompass Live: "Tech Talk with Michael Sauers: RFID, Checkout Kiosks, Security Gates, and … a New Way to Check Out", on Wednesday, August 27, 10:00-11:00 am Central Time.
In May 2014, Topeka & Shawnee County Public Library went through an RFID conversion process. In one week. While closed. But we didn't stop there. We also installed self-check kiosks, replaced our security gates, retrofitted our automated materials handler, and gutted the circulation lobby at the same time. David explains what his library did to prepare for this, and how they pulled it off.
D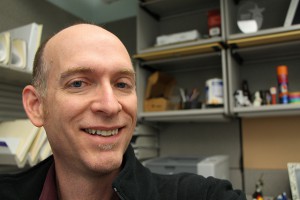 avid Lee King is the Digital Services Director at Topeka & Shawnee County Public Library, where he plans, implements, and experiments with emerging technology trends. He speaks internationally about emerging trends, website management, digital experience, and social media, and has been published in many library-related journals. David was named a Library Journal Mover and Shaker for 2008. His newest book is Face2Face: Using Facebook, Twitter, and Other Social Media Tools to Create Great Customer Connections. David blogs at http://www.davidleeking.com.
In this monthly feature of NCompass Live, the NLC's Technology Innovation Librarian, Michael Sauers, will discuss the tech news of the month and share new and exciting tech for your library. There will also be plenty of time in each episode for you to ask your tech questions. So, bring your questions with you, or send them in ahead of time, and Michael will have your answers.
Upcoming NCompass Live events:
September 3 – Resource Description and What? RDA for Non-Catalogers
September 10 – Teen Tech Time: Remix Fun with Mozilla Webmaker Tools!
September 17 – Broadband and Mobile Broadband Coverage in Nebraska
For more information, to register for NCompass Live, or to listen to recordings of past events, go to the NCompass Live webpage.
NCompass Live is broadcast live every Wednesday from 10am – 11am Central Time. Convert to your time zone on the Official U.S. Time website. The show is presented online using the GoToWebinar online meeting service. Before you attend a session, please see the NLC Online Sessions webpage for detailed information about GoToWebinar, including system requirements, firewall permissions, and equipment requirements for computer speakers and microphones.