Posted June 2, 2023 by Rod Wagner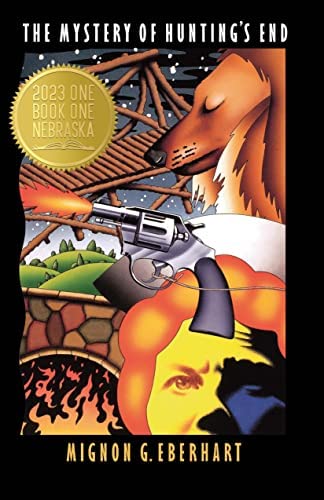 The Mystery of Hunting's End is this year's selection for the One Book One Nebraska program. Published in 1930, Mignon Eberhart chose the Nebraska Sandhills region near Valentine for the remote setting of this mystery novel. Hunting's End is a lodge owned by the wealthy Kingery family. There, a small and curious group comes together by invitation, the same group present five years earlier when a death occurred. Was it by a heart attack or was it murder?
The Nebraska Sandhills, where Mignon G. Eberhart lived as a newlywed, inspired the setting of this mystery. Matil Kingery's intent in this reunion is to discover which one of her guests murdered her father.
Posing as another guest is detective Lance O'Leary. At his recommendation, Matil has arranged for Nurse Sarah Keate to care for Aunt Lucy Kingery at Hunting's End – a challenging assignment, as it turns out. Keate is a perceptive and persistent sleuth and an able O'Leary ally. Nurse Keate has a recurring presence in Eberhart's novels.
Gathered together at the lodge, the guests are sealed from the outside by a November snowstorm. A dog named Jericho lurks about, and a stray cat is curiously present for each discovery of a new death.
This book keeps the reader guessing as to who is behind the murders at Hunting's End. Why were these murders committed and who is the killer? The reader will be alert to clues leading to the identity of the guilty party.
I found The Mystery of Hunting's End to be an enjoyable and fun read. It is true to a good mystery book – colorful characters and a plot that continues to surprise and keep the reader guessing – who did it?
Mignon Eberhart was a prolific writer, one of the most popular mystery writers of her time with a career spanning from the 1920s to the 1980s. Eberhart published over 50 novels and numerous short stories during her career, and with several adapted for film and television. The 1938 movie, Mystery House, is based on The Mystery of Hunting's End. Eberhart received the Grand Master Award from the Mystery Writers of America and was a past president of the Mystery Writers of America.
For more about Mignon Eberhart, read Nebraska Wesleyan University Professor Rick Cypert's America's Agatha Christie: Mignon Good Eberhart, Her Life and Works. Cypert contributed discussion questions for The Mystery of Hutning's End. Discussion questions can be found on the Nebraska Library Commission website. Mignon G. Eberhart. The Mystery of Hunting's End. Lincoln: University of Nebraska Press. 1998. ©1930.
________________________________________________________________________________________________________
This review was posted on the Nebraska Library Commission blog June 2, 2023. See the original post here: http://nlcblogs.nebraska.gov/nlcblog/2023/06/02/friday-reads-the-mystery-of-huntings-end-by-mignon-eberhart/