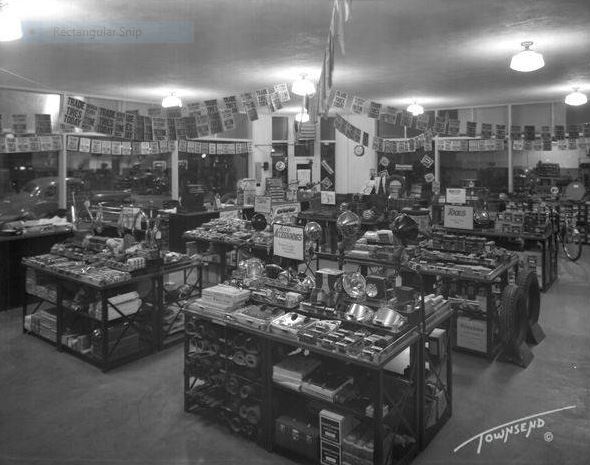 This week, we have an interior view of D. Eiche Firestone Service located on the southwest corner of 12th and N Streets in Lincoln. According to Polk's City Directory of Lincoln, 1939, Dee Eiche owned D. Eiche Firestone Service which "provided Firestone tires, batteries and automobile supplies, brake service, tire service and motor tune up service." The showroom includes display tables with automobile accessories (including fender flaps, sun visors, and floor mats), parts, tires, and tools.
This image is published and owned by Townsend Studio. Townsend Studio has been in continuous operation since it was founded in Lincoln, Nebraska, in 1888. Today it is run by Bradford J. Clark. The studio holds a collection of glass plate and acetate negatives of early Lincoln and early residents, as well as University of Nebraska and high school sports teams, state governors and Lincoln mayors.
If you like history, check out the Nebraska Memories archive.
Nebraska Memories is a cooperative project to digitize Nebraska-related historical and cultural materials and make them available to researchers of all ages. The Nebraska Memories archive is brought to you by the Nebraska Library Commission. If your institution is interested in participating in Nebraska Memories, see http://nlc.nebraska.gov/nebraskamemories/participation.aspx for more information.