For more grants like this one, check the NLC's Grant Opportunities for Nebraska Libraries.
DALLAS, TEXAS; October 5, 2022 — Today, the Laura Bush Foundation for America's Libraries opened the application for grants to support school libraries, with the goal of encouraging all students to develop a love of reading and learning. Since its inception in 2002, the Laura Bush Foundation has awarded more than $19.5 million to over 3,300 schools across the country.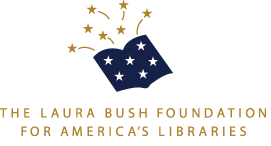 Grant applications are open to public, private, parochial, magnet, and charter schools that have a school library. Public schools must have a Title 1 designation and private schools must have at least 50% of the student population qualify for financial aid to be eligible. Applications will remain open until November 30, 2022. Visit www.bushcenter.org/lbf to learn more and apply.
In the 2021-2022 grant cycle, the Laura Bush Foundation awarded $1.5 million in grants to 300 school libraries across 44 states. Many librarians used the funds to update their library collections by adding more dual language titles and books that showcase a wide range of stories and perspectives.
The Laura Bush Foundation is managed as a restricted fund at the George W. Bush Presidential Center in Dallas, Texas.  More information can be found at www.bushcenter.org. 
George W. Bush Institute
The George W. Bush Institute is a solution-oriented nonpartisan policy organization focused on ensuring opportunity for all, strengthening democracy, and advancing free societies. Housed within the George W. Bush Presidential Center, the Bush Institute is rooted in compassionate conservative values and committed to creating positive, meaningful, and lasting change at home and abroad. We utilize our unique platform and convening power to advance solutions to national and global issues of the day. Learn more at www.bushcenter.org.