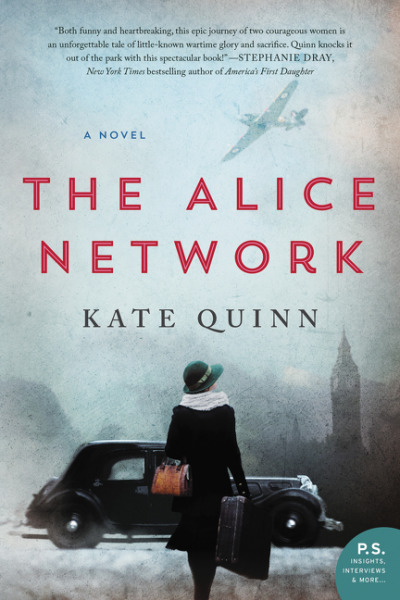 "The first person I met in England was a hallucination."
When a book starts with a sentence like that, you know it will be interesting, at the very least. First published in 2017, and still going strong today with over a million copies in print and multiple holds on the e-book and audiobook versions in Overdrive. Of course, being chosen for Reese Witherspoon's book club helped, but in my opinion, "The Alice Network" by Kate Quinn is worth all the hype and so much more than just interesting.
"The Alice Network" follows people "chasing… (the) legacies left by lost women in past wars". Told from the alternating perspectives of "Charlie", a young woman wanting answers about her cousin who went missing during the ravages of World War II, and Eve, now of middle age but who spent World War I as a young spy in German-occupied France.
Based on real lives and events, "The Alice Network" is all at once a romance, thriller, mystery, historical fiction, and a work of social commentary. Engrossing and touching, I highly recommend this book and cannot wait to get my hands on Kate Quinn's "The Diamond Eye", a story about a librarian turned sniper in World War II.
Quinn, K. (2022). The Alice network: a novel. William Morrow, an imprint of HarperCollins Publishers.