'If You Build it, Will They Come?' Yes! Hear how 'Makerspaces Work in Small, Rural Libraries' on this week's NCompass Live webinar, on Wednesday, March 23 at 10am CT.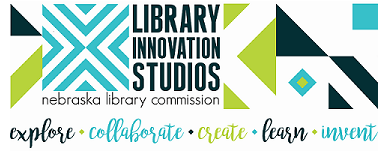 The Nebraska Library Commission led thirty-five small, rural libraries through a process that exposed their staff and communities to a makerspace through the Library Innovation Studios: Transforming Rural Communities Project. Makerspace equipment was installed, library staff and volunteers were trained, and soon the community was engaged in "Making." The host libraries gained knowledge and skills and used the local interest generated to develop their own makerspaces. The panel will share their experiences related to gaining community support, drawing on new volunteers, integrating makerspace activities, and avoiding pitfalls. Although other Nebraska libraries and libraries across the country may not have access to a temporary makerspace, they can access templates and policies developed through the program to guide them through the process. If similar maker machines and kits are acquired, their trainers and makers can access the online training videos and learning modules.
Presenters: JoAnn McManus, Library Innovation Studios Project Manager, Nebraska Library Commission; Jessica Chamberlain, Library Director, Norfolk (NE) Public Library; Joy Kyhn, Library Director, Ravenna (NE) Public Library.
Upcoming NCompass Live shows:
March 30 – Pretty Sweet Tech – 3D Room Design Activity with TinkerCAD & Thingiverse
April 6 – Expanding the Health Information Landscape In Your Public Library
April 13 – Tweak Your Library's Social Media
April 20 – Starting a Board Game Club at a Small Library
April 27 – Pretty Sweet Tech – The 40 Day Challenge Initiative
For more information, to register for NCompass Live, or to listen to recordings of past events, go to the NCompass Live webpage.

NCompass Live is broadcast live every Wednesday from 10am – 11am Central Time. Convert to your time zone on the Official U.S. Time website. The show is presented online using the GoToWebinar online meeting service. Before you attend a session, please see the NLC Online Sessions webpage for detailed information about GoToWebinar, including system requirements, firewall permissions, and equipment requirements for computer speakers and microphones.