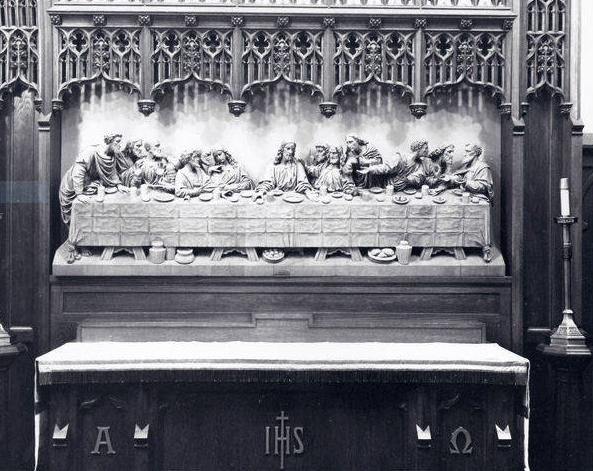 This 10″ x 8″ black and white photograph features a wood carving by Anton Lang above the altar at the Immanuel Chapel at the Immanuel Deaconess Institute. The carving is a true copy of Leonardo da Vinci's "The Last Supper." It was gifted to the Institute in 1926 and stretches over seven feet long and two feet high. In 1977, the carving was refinished and remains in the chapel of the Immanuel Fontenelle Home.
This image is owned and published by the Alegent Health Immanueal Medical Center. Its rich and well documented history is shown in the images of early buildings, people and artifacts. An archive of thousands of photos, papers and items has been maintained over 120 years, carefully stored and currently housed at the Alegent Health Immanuel Medical Center campus.
Check out all the collections on the Nebraska Memories archive.
Nebraska Memories is a cooperative project to digitize Nebraska-related historical and cultural heritage materials and make them available to researchers of all ages via the Internet. Nebraska Memories is brought to you by the Nebraska Library Commission. If your institution is interested in participating in this project, see http://nlc.nebraska.gov/nebraskamemories/participation.aspx for more information.