Eliminating library fines has been getting more and more attention lately.
Chicago recently eliminated late fees and "[t]he number of book returns has since increased 240%" (Forbes, 2019). Denver also announced back in January that they were going fine free and "zeroing out most customers' existing overdue balances so they can start fresh" (Denver Library, 2019) citing their belief in "free and equal access for all." Some libraries, like Lincoln City Libraries, are eliminating late fees for youth materials which are "an unnecessary barrier for children who often lack the autonomy or ability to return library materials on time, and for families who cannot afford to pay them" (Lincoln City Libraries, 2019). The idea behind eliminating fines really goes back to increasing access and breaking down barriers for library users. But is this the right move for every library? How do you decide or implement this kind of initiative?
There are many arguments for and against eliminating library fines, but if you've been having this discussion in your library or are interested in finding out more, the resources and webinars below should help start your search.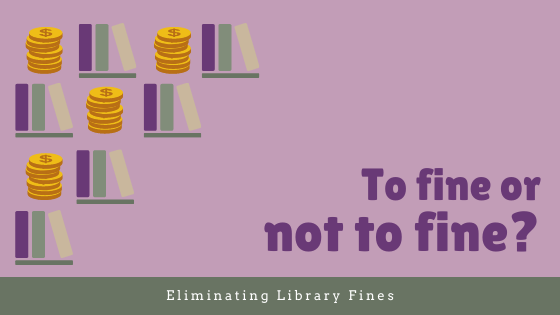 Resources:
Webinars:
For webinars and CE: If you would like to earn continuing education (CE) credit and are enrolled in the Nebraska Public Librarian Certification program, please submit a "CE Activity Report Form" after each webinar.
If you have any questions about continuing education, please contact Holli Duggan.