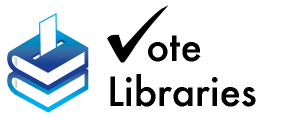 Learn how to 'VoteLibraries 2020 – Thinking About Elections and Libraries Without Being Partisan'  on next week's FREE NCompass Live webinar on Wednesday, November 20, 10:00am-11:00am CT.
Libraries have a natural non-partisan role to encourage and support civic engagements like voter registration and issue-awareness. For example, EveryLibrary is a sponsoring organization and steering committee member for National Voter Registration Day and is the library coordinating partner for National Disability Voter Registration Week each year. Next year, they plan to relaunch #VoteLibraries2020 to help put non-partisan library issues on the local, state, and federal landscape. In this conversation, EveryLibrary Executive Director John Chrastka will talk about these voter-facing public education campaigns and other activities that they have planned.
Upcoming NCompass Live events:
Nov. 27 – Pretty Sweet Tech – Design Thinking: How Technology is Made
Dec. 4 – Libraries and the LGBT+ Experience
Dec. 11 – Librarian in Training – For Kids!
Dec. 24 – Pretty Sweet Tech
Dec. 31 – Summer Reading Program 2020: Imagine Your Story

For more information, to register for NCompass Live, or to listen to recordings of past events, go to the NCompass Live webpage.
NCompass Live is broadcast live every Wednesday from 10am – 11am Central Time. Convert to your time zone on the Official U.S. Time website. The show is presented online using the GoToWebinar online meeting service. Before you attend a session, please see the NLC Online Sessions webpage for detailed information about GoToWebinar, including system requirements, firewall permissions, and equipment requirements for computer speakers and microphones.