The
Nebraska Publications Clearinghouse
receives documents every month from all Nebraska state agencies, including the
University of Nebraska Press
(UNP). Each month we will be showcasing the UNP books that the Clearinghouse receives. UNP books, as well as all Nebraska state documents, are available for
checkout
by libraries and librarians, for their patrons, in Nebraska. Here are the UNP books the Clearinghouse received in September: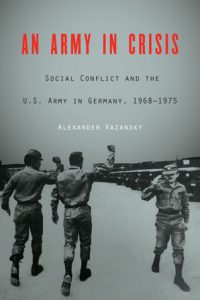 An Army in Crisis : Social Conflict and the U.. Army in Germany, 1968-1975
Alexander Vazansky Following the decision to maintain 250,000 U.S. troops in Germany after the Allied victory in 1945, the U.S. Army had, for the most part, been a model of what a peacetime occupying army stationed in an ally's country should be. The army had initially benefited from the positive results of U.S. foreign policy toward West Germany and the deference of the Federal Republic toward it, establishing cordial and even friendly relations with German society. By 1968, however, the disciplined military of the Allies had been replaced with rundown barracks and shabby-looking GIs, and U.S. bases in Germany had become a symbol of the army's greatest crisis, a crisis that threatened the army's very existence. In
An Army in Crisis
Alexander Vazansky analyzes the social crisis that developed among the U.S. Army forces stationed in Germany between 1968 and 1975. This crisis was the result of shifting deployment patterns across the world during the Vietnam War; changing social and political realities of life in postwar Germany and Europe; and racial tensions, drug use, dissent, and insubordination within the U.S. Army itself, influenced by the civil rights movement, the Vietnam War, and the youth movement in the States. With particular attention to 1968,
An Army in Crisis
examines the changing relationships between American and German soldiers, from German deference to familiarity and fraternization, and the effects that a prolonged military presence in Germany had on American military personnel, their dependents, and the lives of Germans. Vazansky presents an innovative study of opposition and resistance within the ranks, affected by the Vietnam War and the limitations of personal freedom among the military during this era.
Bodies Built for Game : The Prairie Schooner Anthology of Contemporary Sports Writing
Edited by Natalie Diaz; Hannah Ensor, Associate Editor Sport has always been central to the movements of both the nation-state and the people who resist that nation-state. Think of the Roman Colosseum, Jesse Owens's four gold-medal victories in the 1936 Nazi Olympics, Kareem Abdul-Jabbar's protest at the 1968 Olympics, and the fallout Colin Kaepernick suffered as a result of his recent protest on the sidelines of an NFL game. Sport is a place where the body and the mind are the most dangerous because they are allowed to be unified as one energy.
Bodies Built for Game
brings together poems, essays, and stories that challenge our traditional ideas of sport and question the power structures that athletics enforce. What is it that drives us to athletics? What is it that makes us break our own bodies or the bodies of others as we root for these unnatural and performed victories? Featuring contributions from a diverse group of writers, including Hanif Abdurraqib, Fatimah Asghar, Reginald Dwayne Betts, Louise Erdrich, Toni Jensen, Ada Limón, Tommy Orange, Claudia Rankine, Danez Smith, and Maya Washington, this book challenges America by questioning its games.
Carrying Water to the Field : New and Selected Poems
Joyce Sutphen; Introduction by Ted Kooser (Series: Ted Kooser Contemporary Poetry Series) Joyce Sutphen's evocations of life on a small farm, coming of age in the late 1960s, and traveling and searching for balance in a very modern world are both deeply personal and familiar. Readers from Maine to Minnesota and beyond will recognize themselves, their parents, aunts and uncles, and neighbors in these poems, which move us from delight in keen description toward something like wisdom or solace in the things of this world. In addition to poems selected from the last twenty-five years,
Carrying Water to the Field
includes more than forty new poems on the themes of luck, hard work, and the ravages of time—erasures that Sutphen attempts to ameliorate with her careful attention to language and lyrical precision.
The Distance Between : A Memoir
Timothy J. Hillegonds At eighteen years old, with no high school diploma, a growing rap sheet, and a failed relationship with his estranged father, Timothy J. Hillegonds took a one-way flight from Chicago to Colorado in hopes of leaving his mounting rage and frustration behind. His plan was simple: snowboard, hang out, live an uncomplicated life.
The Distance Between
chronicles how Hillegonds's plan went awry after he immediately jumped head first into a turbulent relationship with April, a Denny's coworker and single mother. At once passionate and volatile, their relationship was fueled by vodka, crystal methamphetamine, and poverty—and it sometimes became violent. Mere months after moving to the mountains, when the stakes felt like they couldn't be higher, Hillegonds learned April was pregnant with his child. More than just a harrowing story of addiction and abuse or a simple mea culpa,
The Distance Between
is a finely wrought exploration of, and reckoning with, absent fathers, fatherhood, violence, adolescent rage, white male privilege, and Hillegonds's own toxic masculinity. With nuance and urgency,
The Distance Between
takes readers through the grit of life on the margins while grappling with the problematic nature of one man's existence.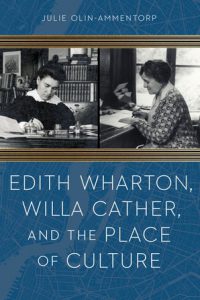 Edith Wharton, Willa Cather, and the Place of Culture
Julie Olin-Ammentorp Edith Wharton and Willa Cather wrote many of the most enduring American novels from the first half of the twentieth century, including Wharton's
The House of Mirth, Ethan Frome,
and
The Age of Innocence,
and Cather's
O Pioneers!, My Ántonia,
and
Death Comes for the Archbishop.
Yet despite their perennial popularity and their status as major American novelists, Wharton (1862–1937) and Cather (1873–1947) have rarely been studied together. Indeed, critics and scholars seem to have conspired to keep them at a distance: Wharton is seen as "our literary aristocrat," an author who chronicles the lives of the East Coast, Europe-bound elite, while Cather is considered a prairie populist who describes the lives of rugged western pioneers. These depictions, though partially valid, nonetheless rely on oversimplifications and neglect the striking and important ways the works of these two authors intersect. The first comparative study of Edith Wharton and Willa Cather in thirty years, this book combines biographical, historical, and literary analyses with a focus on place and aesthetics to reveal Wharton's and Cather's parallel experiences of dislocation, their relationship to each other as writers, and the profound similarities in their theories of fiction. Julie Olin-Ammentorp provides a new assessment of the affinities between Wharton and Cather by exploring the importance of literary and geographic place in their lives and works, including the role of New York City, the American West, France, and travel. In doing so she reveals the two authors' shared concern about the culture of place and the place of culture in the United States.
Gothic Queer Culture : Marginalized Communities and the Ghosts of Insidious Trauma
Laura Westengard (Series: Expanding Frontiers: Interdisciplinary Approaches to Studies of Women, Gender, and Sexuality) In
Gothic Queer Culture,
Laura Westengard proposes that contemporary U.S. queer culture is gothic at its core. Using interdisciplinary cultural studies to examine the gothicism in queer art, literature, and thought—including ghosts embedded in queer theory, shadowy crypts in lesbian pulp fiction, monstrosity and cannibalism in AIDS poetry, and sadomasochism in queer performance—Westengard argues that during the twentieth and twenty-first centuries a queer culture has emerged that challenges and responds to traumatic marginalization by creating a distinctly gothic aesthetic.
Gothic Queer Culture
examines the material effects of marginalization, exclusion, and violence and explains why discourse around the complexities of genders and sexualities repeatedly returns to the gothic. Westengard places this queer knowledge production within a larger framework of gothic queer culture, which inherently includes theoretical texts, art, literature, performance, and popular culture. By analyzing queer knowledge production alongside other forms of queer culture,
Gothic Queer Culture
enters into the most current conversations on the state of gender and sexuality, especially debates surrounding negativity, anti-relationalism, assimilation, and neoliberalism. It provides a framework for understanding these debates in the context of a distinctly gothic cultural mode that acknowledges violence and insidious trauma, depathologizes the association between trauma and queerness, and offers a rich counterhegemonic cultural aesthetic through the circulation of gothic tropes.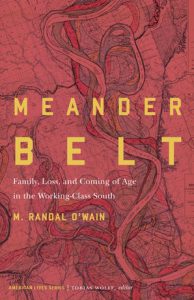 Meander Belt : Family, Loss, and Coming of Age in the Working-Class South
M. Randal O'Wain (Series: American Lives) In
Meander Belt
M. Randal O'Wain offers a reflection on how a working-class boy from Memphis, Tennessee, came to fall in love with language, reading, writing, and the larger world outside of the American South. This memoir examines what it means for the son of a carpenter to value mental rather than physical labor and what this does to his relationship with his family, whose livelihood and sensibility are decidedly blue collar. Straining the father-son bond further, O'Wain leaves home to find a life outside Memphis, roaming from place to place, finding odd jobs, and touring with his band. From memory and observation, O'Wain assembles a subtle and spare portrait of his roots, family, and ultimately discovers that his working-class upbringing is not so antithetical to the man he has become.
Salvific Manhood : James Baldwin's Novelization of Male Intimacy
Ernest L. Gibson III (Series: Expanding Frontiers: Interdisciplinary Approaches to Studies of Women, Gender, and Sexuality)
Salvific Manhood
foregrounds the radical power of male intimacy and vulnerability in surveying each of James Baldwin's six novels. Asserting that manhood and masculinity hold the potential for both tragedy and salvation, Ernest L. Gibson III highlights the complex and difficult emotional choices Baldwin's men must make within their varied lives, relationships, and experiences. In
Salvific Manhood
, Gibson offers a new and compelling way to understand the hidden connections between Baldwin's novels. Thematically daring and theoretically provocative, he presents a queering of salvation, a nuanced approach that views redemption through the lenses of gender and sexuality. Exploring how fraternal crises develop out of sociopolitical forces and conditions,
Salvific Manhood
theorizes a spatiality of manhood, where spaces in between men are erased through expressions of intimacy and love. Positioned at the intersections of literary criticism, queer studies, and male studies, Gibson deconstructs Baldwin's wrestling with familial love, American identity, suicide, art, incarceration, and memory by magnifying the potent idea of salvific manhood. Ultimately,
Salvific Manhood
calls for an alternate reading of Baldwin's novels, introducing new theories for understanding the intricacies of African American manhood and American identity, all within a space where the presence of tragedy can give way to the possibility of salvation.​ **
All synopses courtesy of University of Nebraska Press (https://www.nebraskapress.unl.edu/)