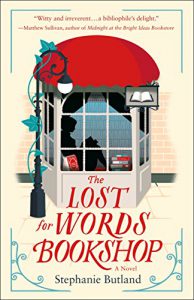 The Lost for Words Bookshop by Stephanie Butland opens with Loveday Cardew, rescuing a book from the gutter in York. England, not Nebraska. Just thought I would clarify so you can get the accent right in your mind. Anyway, the book she pulled from the gutter is sheer poetry, mixed with a bit of mud and grit. It also leads her to another poet, but that's all I'll say about that.
Despite her name, Loveday hates people with an awkward passion. It's easier to control written people than real. When characters annoy you, just skip a few pages or shut the book in their face. It's been known to happen.
But there is a bit of love mixed between the pages of The Lost for Words Bookshop. Not surprisingly, Loveday is the Byronic hero(ine) with the tortured past here. There is always a tortured past, isn't there? But it's not all angst. If it were, I wouldn't be writing this review right now. I would have shut the book in her face. With enthusiasm!
Instead there is growth and a tentative hope for a better future. As often happens, this book about books is really about people. Loveday's journey shifts between Crime, Poetry, and History. These are not my favorite sections of the bookstore, but this is also not your traditional crime novel. This particular crime had been solved years ago. Sort of. The mystery was how to deal with the fallout. You'll have to read it to find out.
If you like books about the love of books, paired with a heroine who is discovering life, The Lost for Words Bookshop will help you find your way.