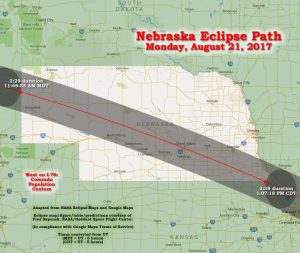 …or 7 weeks, 5 days, 23 hrs, and 14 mins, depending on when you read this of course! Is your library ready for the celestial event of the century? In 54 days, on August 21, 2017, the shadow of the moon will sweep across the United States from the Pacific Ocean to the Atlantic Ocean in a spectacle that hasn't occurred in decades. In fact, the last total solar eclipse for the United States was nearly 40 years ago, and the next total eclipse that will be visible in the continental United States will be in 2024.  Did you know that Nebraska will be one of the BEST places in the country to view it? To help your library prepare for this historic event, the Nebraska Library Commission is doing a series of blog posts about resources you can access for your Eclipse programs:
Part 2: Educational Resources
Books & Articles
:  This section has a great 
eclipse bibliography for libraries
, plus some of the best eclipse related books and articles available for download or purchase:
The "All-American" Eclipse: A Guide for Public Libraries and Their Communities

,

When The Sun Goes Dark: A New, Richly-illustrated Children's Book on the Science and Fun of Eclipses
are just two suggested books available.
Eclipse Videos
:  In this section, you will find educational videos to educate your library patrons about the 2017 eclipse, courtesy of
Exploratorium
and
Sky & Telescope
(each of which has their own great resources).  Examples of some of the videos:
What is a Solar Eclipse
(in English and Spanish),
Earth-Sun-Moon Scale Model
, and
Getting to the 2017 Total Solar Eclipse
.
Eclipse Websites
:  There are a wide variety of really cool websites in this section! 
NASA
, the
National Science Teachers Association
, the
Fiske Planetarium
, the
Great American Eclipse
, and
STARnet
to name just a few. Have fun checking out all the resources available, and stay tuned next week for
Solar Eclipse Resources Part Three
!