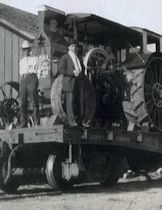 As the harvest season is ending, I thought it would be a great time to look at some of the first tractors Nebraskans used to work the fields. Looking at the photos in Nebraska Memories makes me wonder what people thought of these large metal machines as they started to be delivered to farms across the state. Someone in Sidney cared enough to have a photo taken of a railroad flat car loaded with three International Harvester Mogul steam tractors. You can see how large the tractors are compared to the men standing in front of them.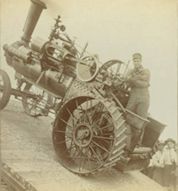 Photographer John Nelson took a picture of man who I consider to be brave. The man is standing on the back of a tractor that appears to be part way up a ramp with a sharp incline. The tractor must have great breaks since it is not rolling down the incline.
John Nelson also took a picture of a group of six men standing next to a tractor in what appears to be the middle of a field. While we may never know what was really going on at the time of this picture it appears to me that they got
the tractor and the cart they were pulling stuck in the mud. As you can see, the back wheels of the tractor and the wagon wheels are almost axel deep in mud. You have to wonder if the tractor made it out on its own steam or if the men and/or horses in the picture had to help.
If you haven't noticed, I don't know much about tractors. When I saw the photo of the Hart-Parr Company, I just assumed it was a local company in Lincoln. I love the sign next to the garage door. It states "The modern farm horse. Does plowing for 40 to 60 cents per acre. eats nothing when idle".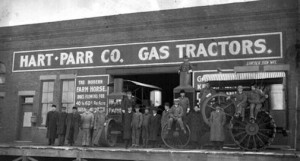 I originally planned to do a bit of research to see if I could learn something about this local company. I was surprised to learn however that the Hart-Parr Company was actually a tractor company based out of Charles City Iowa. I can only assume that the location in Lincoln was the local dealership. If you are a tractor enthusiast, you may be interested to know that Hart-Parr merged with three other companies in 1929 to form the Oliver Farm Equipment Company. The Oliver Company went through some changes and finally ended up being White Farm Equipment.
One of the place I looked for information about the Hart-Parr Company was in the Library of Congress's Chronicling America: Historic American Newspapers collection. While I
didn't find the type of information I was hoping to find I did run across a couple of fun ads that appeared in The Commoner. In 1912 the Hart-Parr Company offered a correspondence course that would teach you how to run a tractor. Participants in the course also got to attend the practice schools where they could "actually run a tractor". One of these schools was located in Lincoln.
I hoped you enjoyed seeing some of these "Modern Farm Horse". Visit Nebraska Memories to search for or browse through many more historical images digitized from photographs, negatives, postcards, maps, lantern slides, books and other materials.
Nebraska Memories is a cooperative project to digitize Nebraska-related historical and cultural heritage materials and make them available to researchers of all ages via the Internet. Nebraska Memories is brought to you by the Nebraska Library Commission. If your institution is interested in participating in Nebraska Memories, see http://nlc.nebraska.gov/nebraskamemories/participation.aspx for more information, contact Devra Dragos, Technology & Access Services Director.