Ted and Betsy Lewin take turns recounting some of the many experiences they had while traveling the globe in order to research different animals and locations for the books they have written for children.  Some events were frightening – som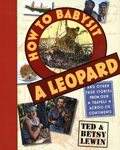 e humorous, all retold for the reader to share the back seat during their lives on the road in Africa, India, Mongolia and more – covering six continents!
Plenty of their sketches from the trips as well as photographs are included on each two-page spread.  I enjoyed reading about Africa, somewhere I have been, as well as the many places I have not!  This book may inspire future travelers, artists, and writers. What amazing lives they have led!