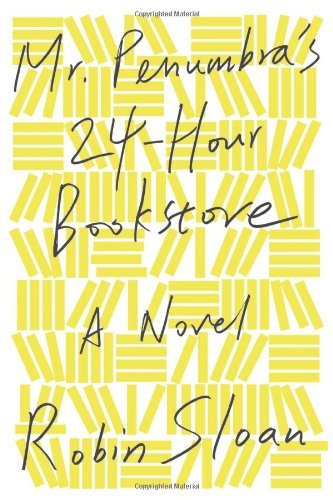 Robin Sloan has written a yarn that stretches from books to technology to ancient knowledge, typography to coded secrets, intrigue to cults, friendship to love. He uses historical facts combined with present day real life 'Google" to take our champions on a quest for the "key to life". Our main character, Clay Jannon, needs a job, and where does he land but the strangest bookstore he has ever set foot in. In the beginning Clay does what he's told, but we all know rules need to be broken, the books must be read, so he does, and read them he cannot do. The bookshelves in this store are lined with volumes coded with puzzles, and Clay must find the key to solving them. He finds that the important codex vitae is 500 years old and is stored in a "cave" below a New York City corporation complete with black robes and solemn ceremonies. The capable Clay really does know where to find resourceful & talented friends, backers, and hackers. Together they form the Rebel Alliance as they become the warrior, the wizard, and the rogue.
"You know, I'm really starting to think the whole world is just a patchwork quilt of crazy little cults, all with their own secret spaces, their own records, their own rules." –Clay Jannon, Mr. Penumbra's 24-Hour Bookstore.
Robin Sloan indicates that he is a media inventor. In his own words, he says a media inventor is "someone primarily interested in content—words, pictures, ideas—who also experiments with new formats, new tools, and new technology…. Media inventors feel compelled to make the content and the container."
Do fantasy novels intrigue you? Does solving puzzles fit right up your alley? Do you want to go on your own quest? Have we maneuvered you into checking this out? Then our goal here is met.
Annette Hall & Janet Greser