Read Across America Day is March 2!
Sponsored by the National Education Association (NEA) Read Across America Day is usually held on March 2, in honor of Dr. Seuss' birthday, but you can choose a day that works for you and your community to celebrate.  Visit the NEA for some artwork and downloadable items you can use, as well as fact sheets and media tips.
If you are planning to celebrate Read Across America Day, you may want to take a look at the Central Plains Library System's Pinterest page with plenty of different ideas!  I took the Dr. Seuss Trivia Quiz and only missed a few!  And thank you to Denise Harders for sharing the ideas she found.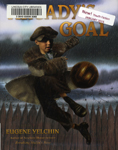 Arcady's Goal by Eugene Yelchin tells of Arcady (12) who lives in an orphanage in Soviet Russia for children of people declared to be enemies of the state.  Miss Hannigan is a push-over compared to the director and guards of the orphanage.  It is the late 1930s, Arcady can earn an extra piece of bread if he defeats several other children, one at a time, with his soccer skills.  He is unbeatable.  But when he is adopted by a gentle man he begins to call "Coach" he finds himself lost in a world he doesn't know.  A look at another place and time, this title is aimed at grades 5-8.
(The Nebraska Library Commission receives free copies of children's and young adult books for review from a number of publishers.  After review, the books are distributed free, via the Regional Library Systems, to Nebraska school and public libraries.)