As a page admin, I noticed that after Facebook launched the Insights platform for viewing data about my page's traffic and reach, it was a bit harder to
view the list of individuals who liked the page
. So, here are three steps I use to get to that list:

1. Along the left of your Page, under the tabs such as Wall and Photos, is a number with the words "like this" under it. This is the number of individuals who like your Page. Click on "like this," which is a link that will take you to the Insights main page.

2. Along the right of the Insights page is the "See likes" link. Follow that link and a pop-up window shows the list of individuals who like your Page.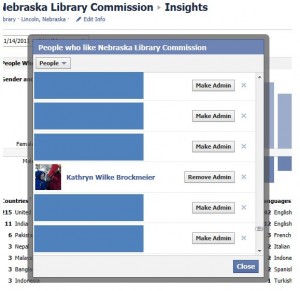 3. Scroll through the list to see who likes your page. Previous experience tells me that the listing goes in chronological order from most recent like to oldest like. Unfortunately, I could not find one topic in the Facebook help center which described how to accomplish this task. If you have any luck, please let me know by commenting below.