Tag Archives:
Kwame Dawes
by Editor | Lake County News
Award-winning poet, author, and editor Kwame Dawes, PhD, has published his first weekly column as American Life in Poetry editor, in partnership with the Poetry Foundation and University of Nebraska-Lincoln, and relaunches a new and engaging website to connect people to poetry through interests, geography, and representation.
Dawes carries the column forward after founding editor and curator, Ted Kooser, retired after 15 years as project creator and editor.
The first poem featured is "They Dance Through Granelli's" by Pat Emile — an homage to the recently retired editorial assistant of the project for 15 years.
Dawes seeks to maintain, and expand the original vision for the column by continuing to reach readers through local news media outlets, as well as subscribers to the newsletter that publishes weekly on Mondays.
"This column is rooted in the everyday, the broad sense of Americanness that eschews elitism and that embraces a democratic sense of lives that make sense to a vast cross section of the population," Dawes said. "I welcome readers who can engage in a wide section of American life, can find poetry that speaks to various aspects of American existence, and that somehow embraces the full range of this America."
Along with a completely refreshed visual statement, the website features increased browsing and discovery capabilities, new photography, and an increased social media presence. Front and center allows users the ability to browse past columns by theme and region.
"The site allows for readers to dig deeper into what they may see in the newsletter or on social media," Dawes said. "We want readers to stay on the site for awhile and get comfortable with poetry, or to find new ways to engage with poems whether that's through a love of sports or geography."
Dawes hopes new readers will connect with American Life in Poetry by finding columns that are approachable and speak to their interests, particularly for new poetry readers.
With over 60 different themes that can be combined while searching, users can find a poem that speaks to gardening and unrequited love from the archive which includes more than 800 poems.
Dawes is the author of 22 books of poetry and numerous other books of fiction, criticism, and essays. His collection, "Nebraska" was published in 2020.
He is George W. Holmes University Professor of English, Glenna Luschei Editor of Prairie Schooner at the University of Nebraska-Lincoln and also teaches the Pacific MFA Program.
He is director of the African Poetry Book Fund and Artistic Director of the Calabash International Literary Festival. Dawes is a Chancellor of the Academy of American Poets and a Fellow of the Royal Society of Literature.
His awards include an Emmy, Nation­al Press Club Joan Frieden­berg Award for Online Jour­nal­ism, the For­ward Poet­ry Prize, the Mus­grave Sil­ver Medal for con­tri­bu­tion to the Arts in Jamaica, the Governor's Award for ser­vice to the arts in South Car­oli­na, a Guggen­heim Fel­low­ship and the Wind­ham Camp­bell Prize for Poet­ry. In 2009 he was induct­ed into the South Car­oli­na Acad­e­my of Authors.
The Poetry Foundation, publisher of Poetry magazine, is an independent literary organization committed to a vigorous presence for poetry in American culture. It exists to discover and celebrate the best poetry and to place it before the largest possible audience. The Poetry Foundation seeks to be a leader in shaping a receptive climate for poetry by developing new audiences, creating new avenues for delivery, and encouraging new kinds of poetry through innovative literary prizes and programs.
March 20, 2021 | lakeconews.com
by Deann Gayman | University Communication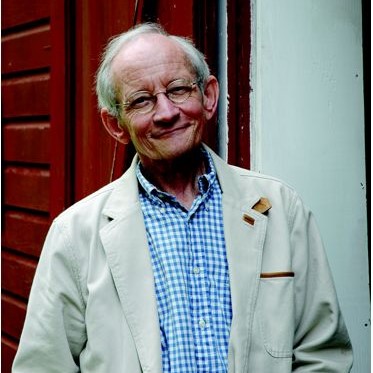 After more than 15 years at the helm, Ted Kooser announced his plans to retire from editing the national "American Life in Poetry" column, which he also founded, and named Kwame Dawes as his successor.
Kooser made the announcement in his 805th column, which featured "Red Stilts," the title poem from his forthcoming book. Kooser's last column will run Dec. 28.
"Kwame Dawes is an accomplished poet and enthusiastic and energetic promoter of poetry with a lot of editorial experience," Kooser said.
A major project during his tenure as poet laureate to the United States, Kooser launched the free weekly column in 2005 with an overarching goal in mind — to get poetry back into newspapers, where it had previously flourished, and into the hands of more readers.
"At the time I was U.S. Poet Laureate, my wife, Kathleen Rutledge, was the head editor at the Lincoln Journal Star, and she and I had often talked about trying to get poetry back into newspapers, and she'd told me that no newspaper would pay for a column like that, but if it were free, perhaps they would print it," said Kooser, the emeritus Presidential Professor of English at the University of Nebraska–Lincoln. "At the invitation of Allen Beerman, I attended a Washington meeting of press association leaders and presented my ideas. Some of the people there were supportive, some skeptical, but they all liked the 'free' part of my idea."
With support from the Poetry Foundation, United States Library of Congress and the University of Nebraska–Lincoln's Department of English, Kooser debuted the column with a poem by David Allan Evans, titled "Neighbors."
"Off it went, and within a very short time we had a million readers both in print and online," Kooser said.
While printed newspapers have gotten smaller in size and number since the column's inception, Kooser said the column has grown exponentially through additional delivery mechanisms, including the website and accompanying newsletter. "American Life in Poetry" is now enjoyed by 4.6 million readers across the globe.
"We haven't changed anything in response to the slow and painful demise of newspapers and the growth of web news, but as newspapers grew thinner and thinner and became more jealous of their 'news hole' and ad space, there were instances in which there was no longer any room for American Life in Poetry," Kooser said. "But the online circulation has kept growing, and we've received emails from all over the world."
The column is financially supported by the Poetry Foundation, an independent literary organization that publishes "Poetry" magazine. Kooser's selection of Dawes was enthusiastically approved by the foundation.
"Ted's selections still resonate like his first, 'Neighbors' by David Allan Evans," Sarah Whitcher, media and marketing director of the Poetry Foundation, said in the foundation's news release. "The poem set the tone for the next 15 years, giving us an intimate look at the American experience. We look forward to building upon the archive, and expanding perspectives and contributors, under the leadership of Kwame Dawes."
Dawes is the Chancellor's Professor of English at Nebraska, Glenna Luschei Editor of Prairie Schooner and a renowned poet and author, most recently publishing the collection of poetry, "Nebraska." His stewardship of the column will begin in January 2021.
"American Life in Poetry is a major institution because of the sheer ambition and necessity of its remit — namely to present, on a regular basis, the life of America in poetry, the life of American poetry, the life of poetry in America, and much else," Dawes said. "It is a brilliantly conceived project, and few people could dare to make such a bold gesture with credibility and quiet authority. Ted Kooser is one of the small few. He has started something, and with his blueprint — basically the ambition of this effort — I considered it an honor and an opportunity to continue that necessary work. So, when asked, saying yes was a no-brainer."
Going forward, Dawes said the reality of a rapidly changing media landscape will partially guide his philosophy as he steers the column in the future, but that the column will stay largely the same in its mission of making poetry accessible to all.
"What continues to change is how people get their literature, how and where they read their poetry and art," Dawes said. "Any entity that seeks to sustain its democratic ideals must seek to reflect the ways that the nation is changing and the ways that the poetry of the nation are changing to facilitate the sustaining of the best values and principles of our democracy. That is my challenge.
"My goal is to assure people that at the core of what we will do going forward is the love of poetry and the sincere belief that poetry, like music, is an artform that can bring meaning and value to anyone willing to test the water. America has been blessed with a long and vibrant poetic tradition, fed by the many tributaries of complex experiences and histories that constitute its present moment. 'American Life in Poetry' will continue to hold to Ted Kooser's core vision — 'to create a vigorous presence for poetry in our culture.'"
September 8, 2020 | news.unl.edu