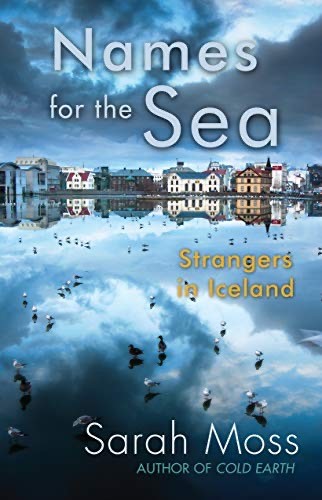 When the days are short and it's too cold to spend much time outdoors, what kind of books do you reach for? I often seek out a travel memoir. Those I connect with most inspire me to reminisce about my own travel or pique my interest in learning more about a place I've never been. When looking for a new read to get me through the cold and dreary season, Names for the Sea: Strangers in Iceland jumped out at me. Several people have recently told me about their travels to Iceland and suggested I add it to my ultimate travel wish list, so I decided to download the e-book and learn more.
Names for the Sea isn't exactly a travel memoir. It is the story of a British family living and working in Reykjavik during 2009-2010, and the stories of Icelanders met during their stay. Author Sarah Moss, is a British novelist and professor of literature who dreamed of living and working in a foreign country. A temporary position at the University of Iceland caught her eye. After she accepted the position, Sarah and her family put most of their possessions into storage and moved to Reykjavik. Sarah's husband and two young children joined her on the adventure. The first chapters of the book revolved around arranging schooling for the children and various issues pertaining to parenting, settling into a new teaching job, and setting up a home in an unfamiliar place. The book is not just a memoir of their daily life. It is also peppered with stories of various Icelanders who provide a fascinating window into Icelandic history and culture. The Moss family stories and Icelandic narratives don't always fit together seamlessly, and Sarah's negativity is a bit tiresome at times. The book's strengths are the Icelanders' stories and the Moss family's sporadic interactions with the land and environment.
"The aurora are unsettling partly because they show the depth of the space, and falsity of our illusion that the sky is two-dimensional, and partly because it's hard to convince your instinct that something bigger than you and grabbing at the sky isn't out to get you."
Sarah had a difficult time settling into Icelandic life. She seemed crippled by various fears including the worry that everyone saw her as a "foreigner," and that she didn't fit in. Her fears limited her activities in Iceland, and seemed to impact some of her perceptions. Nevertheless, she had a lot of curiosity about Icelandic history and culture. Her colleagues helped her set up meetings with various people to learn about topics that included elves and ghosts, farm life, culinary history, poverty, politics, Icelandic knitting, and volcanic eruptions. These conversations seemed a bit forced to me, as the interactions didn't happen organically, and she often centered herself in the stories a bit too much for my liking. The Icelandic stories are fascinating, however, and they piqued my interest in learning more about their culture.
"And when the milk lorry came it would give you three books for that week, and you'd give him the three books that he gave you last week, from the library, and he'd take those to the next farm, so there'd be a continual march of books around the sveit with the milk lorry."
Sarah heard riveting accounts of previous volcanic eruptions and the Moss family got to experience their own volcanic event with the eruption of Eyjafjallajökull. This volcanic eruption is one of the few events that motivated Sarah to travel outside Reykjavik to experience rural Iceland. The family took few opportunities to explore the greater country during their year. Financial constraints were one of the reasons for their lack of exploration. Iceland was in the midst of recovering from a major financial crisis and prices were extremely high. But Sarah also feared driving outside the city and other fears and negativity also seemed to impact her choices. It was not until they decided to leave Iceland and later return for a vacation, that her attitude shifted and she was more willing to explore beyond Reykjavik. Moss seemed much more content in Iceland as a "tourist" rather than trying to fit in as a resident.
Moss's attitudes and opinions sometimes seemed self-righteous and she never fully reflected on her own biases. Although she acknowledged that fear and the overwhelming feeling of being "foreign" limited her exploration and participation in Icelandic life, her opinions sometimes appeared to be rooted in the biases of being a outsider who was inexperienced with the climate, culture, and negotiating rural environments. This left me questioning if some of her criticisms were well-researched or were instead impacted by her own fears, biases, and what sometimes seemed like jealousy. I think many travelers or people living in a new place where you don't speak the language can identify with fears and self-doubt, but there were some things about Sarah Moss that I just didn't connect with. For me the book was a good reminder that although visiting a new place can make you grateful for certain things in your own homeland, it's important to check one's own biases. Approaching new people and cultures with empathy and being open to try things outside one's comfort zone make travel a much more enjoyable experience.
Although I didn't always connect with Sarah Moss, I really enjoyed this book overall. Seeing a new place through the eyes of an author who is also an outsider often encourages me to reflect on my approach to travel. The Moss family's story kept me reading and interested in how they would navigate different challenges like the short winter days and unfamiliar foods. Overall, this book was also an intriguing introduction into Icelandic culture and history, and I definitely want to learn more.
Moss, Sarah. Names for the Sea Strangers in Iceland. Catapult, 2013.