For more grants like this one, check out the NLC's Grant Opportunities for Nebraska Libraries.
If you missed the first two application windows for the Emergency Connectivity Fund (ECF), you're in luck! The FCC has announced a third filing window will open on April 28. It's a very short window – only 2 weeks. So, if you are considering applying, start preparing now.
IMPORTANT! The Emergency Connectivity Fund (ECF) is strictly for 'off-site' use – meaning not at the library. You cannot use the funds to purchase laptops, hotspots, or internet service that will be used within the library.
The purpose of the ECF is to address the homework gap – connecting students, teachers, and library patrons to broadband connections when they are off-campus and not at the library. The funds are to be used to provide connectivity (wi-fi hotspots and service, for example) and devices (laptops/tablets) to your library patrons to use outside of the library. They must be loaned out to your patrons to use at home or elsewhere. They cannot be used to provide internet in the library.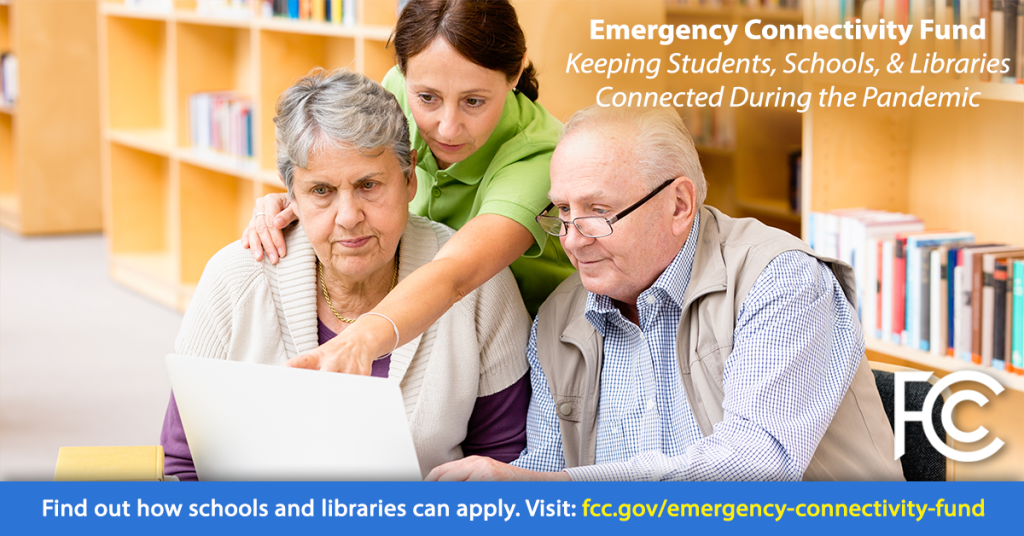 From the ECF announcement:
In view of outstanding demand, the FCC announced that they will open a third application filing window for schools and libraries to request Emergency Connectivity Fund Program support for eligible equipment and up to 12 months of services that will be received or delivered between July 1, 2022 and December 31, 2023 for off-campus use by students, school staff, and library patrons with unmet needs.
The third application filing window will open on Thursday, April 28, 2022 and close on Friday, May 13, 2022, at 11:59 p.m. ET.
Please see the Public Notice (DA 22-309) for additional information about the third application filing window, the service delivery date, and invoice filing deadline applicable to equipment, other non-recurring service, and recurring service requests submitted during this filing window.
Visit the Training page on the Emergency Connectivity Fund Program website to view trainings and access e-learning modules.
To stay informed about the ECF program, sign up for the weekly ECF Newsletters and read the previous newsletters at https://www.emergencyconnectivityfund.org/stay-informed/