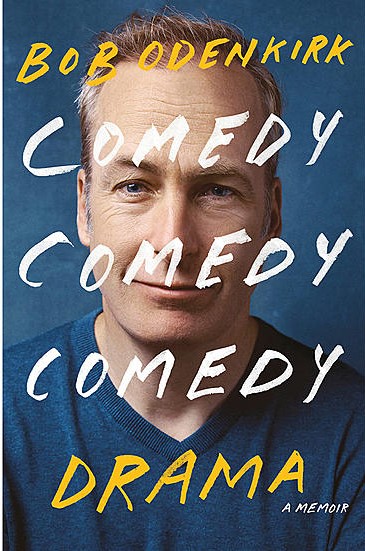 In Nebraska, the comedic figure and dramatic actor Bob Odenkirk exists only in black and white. His two roles that are set in the cornhusker state – Alexander Payne's film Nebraska and the Omaha vignettes of the popular television series Better Call Saul – are presented on a screen devoid of color. These hardscrabble visuals are in stark contrast to the majority of Odenkirk's work recounted in his new book, Comedy Comedy Comedy Drama: A Memoir. This is a variegated trail of memories, from the earliest days as a comedy student loitering around Chicago's Second City to an unlikely turn as a bone-crunching action star in last year's Nobody.
The Comedy Comedy Comedy portion of the memoir establishes Odenkirk as a one-man U.S. history of alternative comedy. Starting out as a writer, Odenkirk penned some of the more innovative sketches that appeared on Saturday Night Live from 1987 – 1995, and he regularly worked for shows too ahead of their time to commercially succeed in mainstream television, such as the meta-sitcom Get a Life and The Ben Stiller Show.
These jobs would lead to roles in The Larry Sanders Show and a project he co-created, wrote, and performed: Mr. Show, a kaleidoscopic sketch comedy series that continues to influence entertainment and uncannily forecast real life. Some of the current spate of dueling campaign commercials for Nebraska governor, for example, would not seem out of place in the absurd Mr. Show universe.
Comedy…Drama also documents Odenkirk's journey into more "serious" acting roles that mine the pathos always near the heart of even his silliest giggle-getters. The author's down-to-earth and consistently funny tone does much to convince the reader of something lofty – that Odenkirk is on an artist's journey full of risk and uncertainty. For those familiar with his comedy career, the book is a great resource for information about lesser known and unknown projects, like the sketch group The Birthday Boys, the 1989 one-man show Half My Face Is a Clown, and a number of failed pilots for series that never happened.
Comedy Comedy Comedy Drama: A Memoir arrives right as Odenkirk's most well-known role begins its denouement in the last season of Better Call Saul. Saul Goodman, the crooked lawyer from Breaking Bad, is now Gene, disguised and working as a manager at a Cinnabon in Omaha. It will be fascinating to watch Bob Odenkirk inhabit this character one last time. Saul has always seemed compelled beyond his will to make decisions that will inevitably lead to tragedy. Is it an unavoidable fate, or can he re-saturate his world with color?
Odenkirk, Bob. Comedy Comedy Comedy Drama: A Memoir. New York: Random House, 2022.