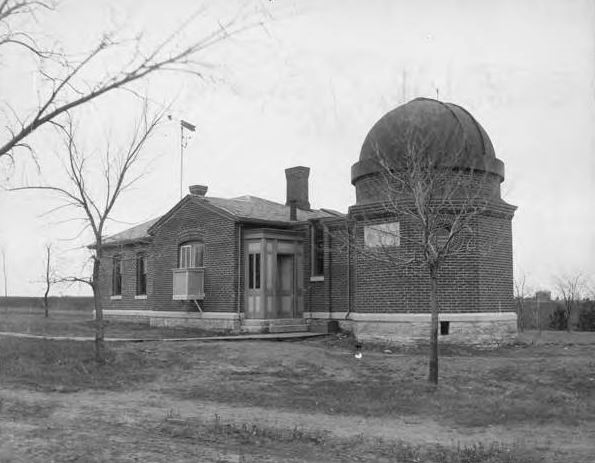 The Boswell Observatory was built in 1883 and was named after Charles Boswell of Connecticut, whose stepson taught at Doane. Boswell donated $5,000 for the building and astronomy equipment which included an eight-inch equatorial telescope and a Greenwich Mean Time clock that was electronically connected to a time ball on top of Merrill Hall. The observatory was the second building on campus and is believed to be the first weather service headquarters in Nebraska. It has been altered several times, including following a fire in 1930. Now, the observatory serves as a mini-museum for historical equipment, as well as for sky viewing with the restored original telescope.
This image is owned and published by Doane University Library. Doane University Library is home to a vast archival collection containing a variety of items related to the history of Doane University. The items in this collection feature buildings, people an activities dating back to the founding of the school. Founded by Thomas Doane in 1872, Doane College became Doane University in May of 2016. It is the oldest private liberal and sciences college/university in the state of Nebraska.
Check out more in this collection on the Nebraska Memories archive.
Nebraska Memories is a cooperative project to digitize Nebraska-related historical and cultural heritage materials and make them available to researchers of all ages via the Internet. The Nebraska Memories archive is brought to you by the Nebraska Library Commission. If your institution is interested in participating in Nebraska Memories, see http://nlc.nebraska.gov/nebraskamemories/participation.aspx for more information.