Learn about the 'The Pros and Cons of Implementing OER at a Small Liberal Arts University' on next week's NCompass Live webinar, on Wednesday, February 16 at 10am CT.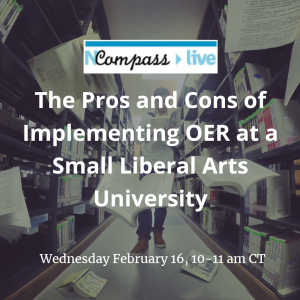 This presentation will talk about my efforts in providing faculty information about how and why we should switch to OER materials for our students. With students not purchasing their textbooks or using ILL or Closed Reserve in place of purchasing their books because they are too expensive or not enough copies available for purchase, it keeps our students from being successful in the classroom and, in turn, causes frustration among the faculty. I will show the evidence and best resources that I have found when assisting faculty with finding OER materials for their courses and other textbook purchasing resources that will help students financially and ensure their success inside and outside of the classroom.
Presenter: Laura Hinman, Library Director, Midland University, Luther Library, Fremont, NE.
Upcoming NCompass Live shows:
Feb. 23 – Pretty Sweet Tech – WordPress Layout Templates Using Elementor
March 16 – Can you see me? Collection Development for Marginalized Communities
March 23 – If You Build it, Will They Come? Makerspaces Work in Small, Rural Libraries
April 13 – Tweak Your Library's Social Media
April 20 – Starting a Board Game Club at a Small Library
For more information, to register for NCompass Live, or to listen to recordings of past events, go to the NCompass Live webpage.

NCompass Live is broadcast live every Wednesday from 10am – 11am Central Time. Convert to your time zone on the Official U.S. Time website. The show is presented online using the GoToWebinar online meeting service. Before you attend a session, please see the NLC Online Sessions webpage for detailed information about GoToWebinar, including system requirements, firewall permissions, and equipment requirements for computer speakers and microphones.