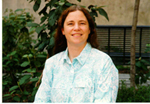 More Book Awards Announced!
The Bank Street Center for Children's Literature announced, on May 6, 2020, the winners and honor books for two prestigious awards.  The Irma Simonton and James H. Black Award  went to The Crayon Man: The Story of the Invention of Crayola Crayons written by Natascha Biebow and illustrated by Steven Salerno. This award is for "an outstanding book for young children," with text and illustrations working together, and is selected by children.  Given since 1973 (where have I been?  I just now heard about this award!) the award also has three honor books.
The Cook Prize has been awarded since 2012, and acknowledges excellence in picture books addressing STEM (science, technology, engineering, and math) in its content.  Also selected by children, the 2020 winner is Mario and the Hole in the Sky: How a Chemist Saved Our Planet written by Elizabeth Rusch and illustrated by Teresa Martinez.
Hair Love by Matthew A. Cherry is one of the Honor Books for the Irma Simonton and James H. Black Award.  Zuri's hair is hard to control. Since today is a special day, Daddy is up to the task.  They try several hairstyles with poor results.  Then, just the right approach works for them.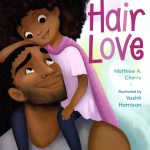 Everything is ready when Mommy gets home! There is a welcome banner up for her, but we do not know where she has been.  A wonderful story of family care and love.
(The Nebraska Library Commission receives free copies of children's and young adult books for review from a number of publishers. After review, the books are distributed free, via the Regional Library Systems, to Nebraska school and public libraries.)