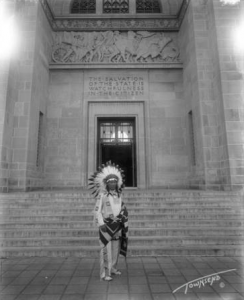 This 8″x10″ glass plate negative is from 1934. It features Chief Red Cloud's grandson James as he stands on steps of Nebraska's State Capitol. He is pictured wearing beaded clothing and a full feather headdress.
This picture is part of the Townsend Studio collection. Check out materials in this collection and many more on the Nebraska Memories archive!
Nebraska Memories is a cooperative project to digitize Nebraska-related historical and cultural heritage materials and make them available to researchers of all ages via the Internet. The Nebraska Memories archive is brought to you by the Nebraska Library Commission. If your institution is interested in participating in Nebraska Memories, see http://nlc.nebraska.gov/nebraskamemories/participation.aspx for more information.