A push to add Art to STEM (Science, Technology, Engineering, and Math) learning took storm a while ago. Then technology took over the world. But what about the humanities? The study of people is what made most technology possible. Ethnography, anthropology, psychology, linguistics, literature, and ethics are the driving force behind how and why technology is created, marketed, and how technology influences society as a whole.
Natural language processing would not be possible without breakthroughs in linguistics. Virtual reality games wouldn't be very interesting without a good plot line to draw in gamers. Video game designers use psychology to study their target market and cater their product to the needs of the gamer. The internet is changing the way people think and interact with the world at large. To steer technology creation and use towards a positive impact on humanity, the humanities must be considered.
That is what we are doing with digital citizenship. We are asking people to look at how technology impacts themselves and others. We are asking people to look at the world today and ask themselves if their actions are making a positive impact on those around them. That is the core of ethics. What is the world today, and what do we want the world to be? How can we make a change towards the better? Can we agree on what makes life better, then work together to build a movement towards positive change?
Ethics teaches us to look at the complex nature of humanity and decide where we want to fit in the world. Are we making a positive contribution to our friends and community? What happens when everyone goes along with the status quo? What makes us do the things we do and how can we identify the need for change. Ethics.
Digital literacy will require us all to ask ourselves some hard qu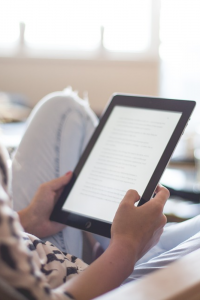 estions. We are teaching kids to build an online identity that will make them look good to their friends and future employers. But what is their identity after they log off the computer? Making a positive impact in our small corner of the world means building introspection, empathy, and deciding who we are as individuals. How does an individual fit into their community? How does our community fit into the world? What can one human do?
There is no simple worksheet or lesson plan that will instill this thinking into growing learners. This will take large scale change in the world. It will mean looking at how technology affects us as individuals. It will mean guiding the use and creation of technology towards a greater purpose. There are no easy answers here.
Knowing how to use a tablet, a smartphone, a computer, and choosing the best device to suit your purpose is a good start. It opens doors to endless possibilities. But using that technology to shape yourself and the world into a better place is the real challenge.
The humanities are the beating heart of digital literacy. Humanity can exist without technology. But technology shouldn't exist without humanity. And right now, it seems like the H in STEAM is silent.