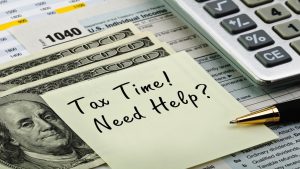 Well folks, it's that time of year again–Tax Time!  The Nebraska Department of Revenue is not distributing forms to libraries this year, so below are some alternatives for helping your patrons.
For decades, public libraries have become unparalleled resources in their communities, far beyond their traditional, literary role. Libraries assist those who need it most by providing free Internet access, offering financial literacy classes, job training, employment assistance and more. And for decades, libraries have served as a critical resource during tax season.
Each year, more and more Americans feel as though they lack the necessary resources to confidently and correctly file their taxes on time. This is particularly true for moderate and lower-income individuals and families who are forced to work multiple jobs just to make ends meet. The question is "where is help available?"
Libraries across the country are stepping up their efforts to assist local taxpayers in filing their taxes for free. Many libraries offer in-person help, often serving as a Volunteer Income Tax Assistance (VITA) location or AARP Tax-Aide site.  Here in Lincoln, VITA is offering this service at these locations, and forms can be printed from the Nebraska Department of Revenue website.
There is an option for free tax prep that libraries can provide—and with little required from already busy library staff. The next time that a local individual or family comes looking for a helping hand with tax preparation, libraries can guide them to a free online tax preparation resource—IRS Free File:
Through the Free File Program, those who earned $66,000 or less last year—over 70 percent of all American taxpayers—are eligible to use at least one of 12 brand-name tax preparation software to file their Federal (and in many cases, state) taxes completely free of charge. More information is available at www.irs.gov/freefile. Free File starts on January 12, 2018.
Free File complements local VITA programs, where people can get in-person help from IRS certified volunteers. There are over 12,000 VITA programs across the country to help people in your community maximize their refund and claim all the credits that they deserve, including the Earned Income Tax Credit (EITC). Any individual making under $54,000 annually may qualify. More information on VITAs is available at www.irs.gov/vita. More information about AARP Tax-Aide can be found here.
With help from libraries and volunteers across the nation, we can work together to ensure that as many taxpayers as possible have access to the resources and assistance that they need to file their returns.
The Computer & Communications Industry Association (CCIA) hosts a website – www.taxtimeallies.org – that provides resources to inform and assist eligible taxpayers with filing their taxes including fact sheets, flyers and traditional and social media outreach tools. CCIA also encourages folks to download the IRS2Goapp on their mobile phone.
Thanks to help from libraries just like yours, we can help eligible taxpayers prepare and file their tax returns on time and free of charge.
District Dispatch, ALA, January 12, 2018