Join us for the next NCompass Live, 'Eleven Ways Your Current Tutorials Are as Forgettable as Barb and What to Do About It', on Wednesday, February 28, 10:00am – 11:00am CT.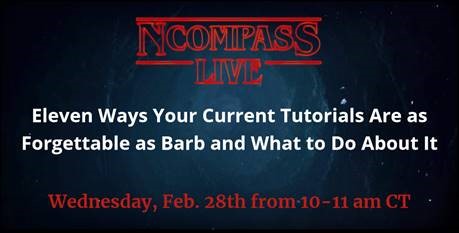 Strategies for Creating Accessible and Usable Online Library Instruction Using New Technologies and Other Stranger Things
Do you ever feel like you are stuck in a rut when you create another LibGuide, screencast or other library instruction? Does it feel repetitive and not-at-all-creative? Are you still getting questions about how to use a database, despite creating detailed screencasts on each one? Are you unsure if what you are creating on the web is accessible to all of your learners? In this workshop, we will address some core skills around universal, instructional and graphic design that you can implement to make your online library instruction more effective. We will share, compare and contrast some tools we've used in innovative ways to create library tutorials and guides like reveal.js, Scalar, Timeline.js, Captivate, Articulate Storyline and address the accessibility criteria for each one. Finally, we will apply these tools with you to show how they can work together to create good-looking, usable, accessible and unforgettable online library instruction. Downloadable templates will be made available to attendees.
Presenters: Lindsay H. Matts-Benson, Instructional Designer, University of Minnesota Libraries; Andrew Palahniuk, Peer Research Consultant, University of Minnesota Libraries.
Upcoming NCompass Live events:
March 7 – Pioneers in Violence Prevention: Libraries & Rape Crisis Centers
March 14 – Tops and Flops of Library Programs
March 21 – Reading Diversely
March 28 – Providing Access to the Good Life for the Disabled
For more information, to register for NCompass Live, or to listen to recordings of past events, go to the NCompass Live webpage.

NCompass Live is broadcast live every Wednesday from 10am – 11am Central Time. Convert to your time zone on the Official U.S. Time website. The show is presented online using the GoToWebinar online meeting service. Before you attend a session, please see the NLC Online Sessions webpage for detailed information about GoToWebinar, including system requirements, firewall permissions, and equipment requirements for computer speakers and microphones.