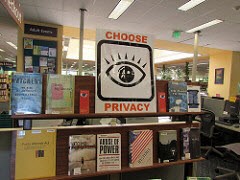 A few keyboard strokes and a click of the mouse and your personal information becomes data stored somewhere. What happens to all that information you enter online? What was in that terms of service statement you accepted? From Google search results to your library borrowing record to online shopping habits, there are real considerations to our online presence and how we share information. How do we make sense of the realities of online privacy both for ourselves and for our library patrons?
Libraries can play a powerful role in guiding patrons to information about how their online information is used and what to be aware of when going online. This month, on March 7, Erin Berman from the San José Public Library (CA) and a Library Journal Mover & Shaker, will present the webinar Privacy Literacy at Your Library . Erin will share the resources developed through her library's Virtual Privacy Lab that guides users through topics such as social media and security, and provide personalized tips, links and resources that enable them to feel safe and confident online. Register today and join us for this free event that can help you and your patrons!
Title: Privacy Literacy at Your Library, a webinar about the Virtual Privacy Lab, a privacy literacy resource available to all, which helps library patrons feel safe and confident online.
Date: March 7th, 2017
Time: 3:00 PM – 4:00 PM Eastern Standard Time
Save