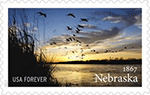 As part of the celebration of the 150th anniversary of Nebraska Statehood, the United States Postal Service will issue this stamp on March 1, 2017, in Lincoln. Known for agriculture, Nebraska (the Cornhusker State), became the 37th state on March 1, 1867. Nebraska photographer Michael Forsberg set up among prairie grasses on the riverbank between the small cities of Grand Island and Kearney to capture the image shown on the stamp. In the photograph, sandhill cranes fly low to scout for shelter from nighttime predators. This mid-migratory rest for half a million birds along the Platte River is unique to Nebraska. Forsberg captured this image as winter thawed into spring around the year 2000. USPS Art Director Derry Noyes designed the stamp using Forsberg's existing photograph.
The 5-cent stamp commemorating the 100th anniversary of Nebraska statehood was first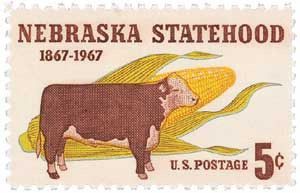 placed on sale at Lincoln, Nebraska, on July 29, 1967.
Julian K. Billings of Omaha, Nebraska, designed the stamp. An ear of yellow corn with its green husk is the background against which the artist placed a reddish-brown Hereford cow. Yellow and green were printed offset; brown was applied by the Giori press. It was issued in panes of fifty and was authorized for an initial printing of 120 million.
For those interested in other statehood stamps issued by the United States Postal Service, you can visit their website.