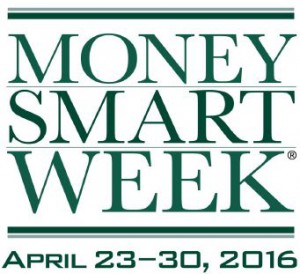 Nebraska libraries are invited to join libraries across the country in celebrating Money Smart Week® April 23-30, 2016. Created by the Federal Reserve Bank of Chicago in 2002, Money Smart Week® is a public awareness campaign designed to help consumers better manage their personal finances. This is achieved through the collaboration and coordinated effort of hundreds of organizations across the country. Classes, activities, events, and programming will be offered to all demographics and income levels and will cover all facets of personal finance. Resources for local events are available at http://www.moneysmartweek.org/resources.
The American Library Association (ALA) Public Programs Office, in partnership with the Financial Industry Regulatory Authority (FINRA) Investor Education Foundation, recently announced that fifty public libraries will host a new traveling exhibition, Thinking Money. Two are located in Nebraska: Morton-James Public Library in Nebraska City and Lincoln City Libraries. Through an adventure-themed storyline, interactive iPad content and other fun activities, the exhibition explores themes like wants vs. needs, preparing for a rainy/sunny day and imagining your future self.
Comment below to share what your library is doing to help the people in your community  find the information they need to improve their financial decisions.