So fellas, did you think about your clothes when you put them on this morning? Dress up with a suit and tie or down with torn jeans and a baseball cap? Coordinate the colors or fabrics of top and bottoms? And where did you buy your fine fashions–a fine men's store, a shop at the mall, or the local convenience store? Where do you suppose a man-about-town or a hard-working farmer would have gone to get advice and purchase the latest fashions in the early part of the last century?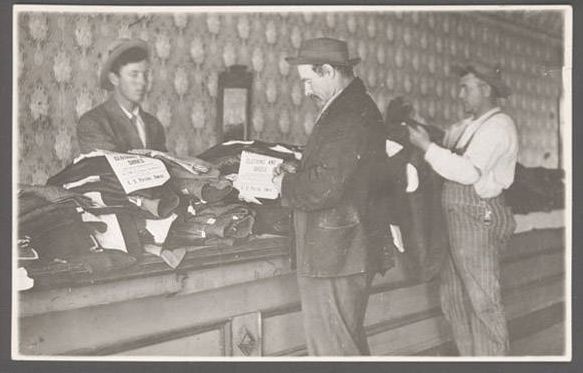 In a small northeastern Nebraska town, they may have gone to a store like the one in the photographic postcard above. The store had the simple name of "Clothing and Shoes" and had an equally simple method of displaying the merchandise by stacking it on a long counter. Notice that the clerk behind the counter is the most formally attired, but  all three men wear hats and two wear suit coats. (
Men looking at clothing
,
Nebraska State Historical Society Collection
, circa 1907)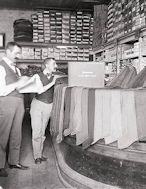 In Neligh, another northeastern Nebraska town, the men's store at left has more merchandise displayed in a more formal layout. While much of the merchandise is stored in boxes which are stacked and organized on shelves behind the counter, pants in a variety of colors are laid out along the curved counter so that customers can get a better view. With the pants display is an order book for "Custom Made Trousers," which it appears could be ordered in from another company. The two clerks, formally dressed in dress pants, shirts, vests, and bow ties, appear ready to advise their customers in the latest sartorial fashions. (
Clothing store and employees, Neligh, Nebraska;
Antelope County Historical Society Collection
, circa 1910)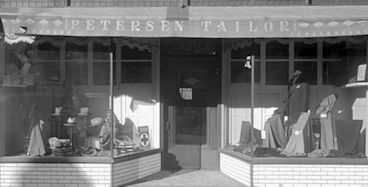 If you wanted to order clothing fitted specifically for yourself directly from the source, you may have visited your local tailor such as Herman Petersen of Fremont, who displayed examples of his clothing in the windows of his establishment as shown in the photograph at right. (
Herman Petersen Tailoring
,
Keene Memorial Library Collection
, 1925)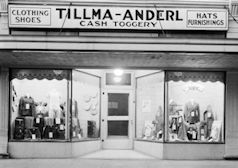 Residents of David City and the surrounding area may have shopped at Tillma-Anderl Cash Toggery, left, whose signs above the display windows advertise clothing, shoes, hats and furnishings. The displays on either side of the door include a variety of clothing and a couple of suitcases. Notice that formal clothing, including suit jackets are still the main parts of the display(
Tillma-Anderl Storefront
,
Butler County Gallery Collection
, 1938)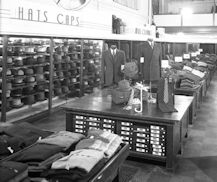 Or, if you visited the big city of Omaha, you may have shopped at the Nebraska Clothing Store, right. Shelves line the walls of the large room, and additional items are stored beneath the display tables in the center. Several suggested combinations of jackets, shirts and ties grace the top of one table. A fan helps customers keep their cool while making the right choice. (
Interior view of men's department of Nebraska Clothing Store
,
The Durham Museum Collection
, circa 1940) Visit
Nebraska Memories
to search or browse for other historical images digitized from photographs, negatives, postcards, maps, lantern slides, books and various materials. Nebraska Memories is a cooperative project to digitize Nebraska-related historical and cultural heritage materials and make them available to researchers of all ages via the Internet. Nebraska Memories is brought to you by the Nebraska Library Commission. If your institution is interested in participating in Nebraska Memories, see
http://nlc.nebraska.gov/nebraskamemories/participation.aspx
for more information, or contact
Devra Dragos
, Technology & Access Services Director.